News
»
Go to news main
Holly Fisher is hearing crickets
Posted by
stephanie rogers
on September 16, 2020 in
News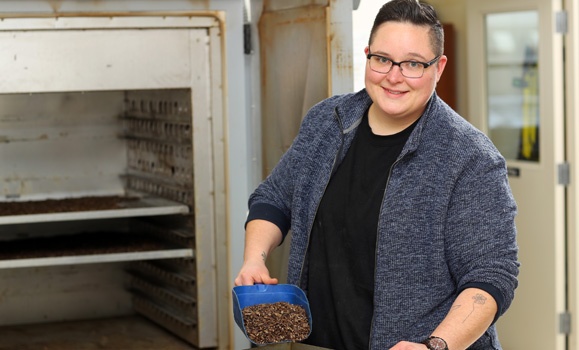 Masters student Holly Fisher is passionate about insects, not only as an edible food source but incorporating them into the food chain.
Holly has always been forward focused and has been encouraging people in the community to put aside their preconceptions about eating insects.  Her attention is now on crickets and their use as a feed ingredient for broiler chickens.
"I spent years looking at crickets for human consumption," explained Holly.  "While it was interesting to explore that area of research and market opportunities, I realized it would take years for people to view insects as an edible food source and not just as a novelty to try with friends."
As such, Holly turned to livestock and pet nutrition to raise general awareness of insects as edible food sources.
Holly partnered with Windsor based Midgard Insect Farm Inc., to source Gryllodes sigillatus crickets, which are an excellent source of protein and fiber.
Midgard Insect Farm Inc. is a Nova Scotia-based cricket producer and researcher with a focus on producing top quality insect protein for the pet industry and frass as a natural and holistic source of plant nutrients for agricultural applications.
Holly was pleased to learn that insects were a perfect match for chickens as it is one of their natural food sources and with the approval of the Canadian Food Inspection Agency began to work with the Atlantic Poultry Research Centre on campus.
"Being an animal science student and keen on industry partnerships, the fit was natural," Holly added.
Holly's research focussed on the growth parameters and meat quality of the birds when fed crickets in various concentrations. The crickets were ground into meal to easily incorporate in the diet and mix with other ingredients.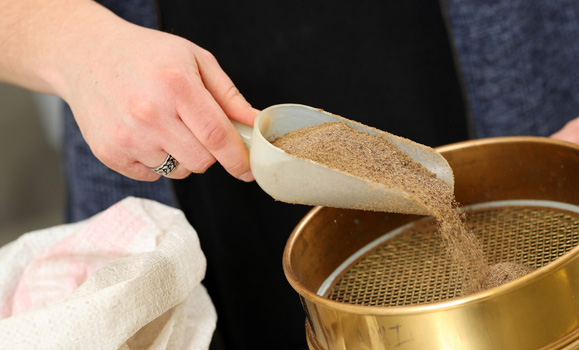 "We did find that crickets were comparable to an antibiotic-free diet and performed better at an inclusion level higher than five per cent," she added.  "It was a really cool study and I was immensely proud to take part in it."
The cricket meal has several benefits, including sustainable production, it's nutritional value as a feed ingredient and providing enrichment to the animals to whom it is fed.
Holly is currently employed with Farm Credit Canada.
"I am working on my thesis now and plan to defend in the fall. Working full time with Farm Credit Canada, while pulling me away from my thesis, has been a great opportunity to dive more fully into agriculture," she said.
As always, supervisor Stephanie Collins is very proud of Holly.
"We are in the initial data-gathering stages, but I believe it will be possible to have this feed ingredient available for producers in the future," said Stephanie. "It has been an honour to observe the forward-moving trajectory of Holly's academic career. I feel a number of industries have increased in value due to Holly's work and Canada benefits from Holly's devotion to sustainable food production."
Crickets are a high protein food packed with vitamins, efficient to produce and generate less greenhouse gas.  If we can overcome our hesitance about eating insects, then crickets just may be the future of food.