News
»
Go to news main
Come for the Garlic, Stay for the Culture
Posted by
stephanie rogers
on August 25, 2020 in
News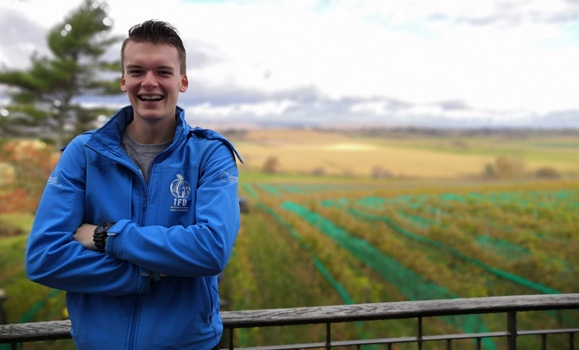 Christiaan de Jong, a third year International Food Business student of the Dalhousie University Faculty of Agriculture, has come for the garlic but is staying in The Netherlands while undertaking an internship with the Toronto Garlic Festival.
For the first time, the Toronto Garlic Festival, an annual celebration of Ontario's garlic harvest, will move to an online event in lieu of cancelling its 2020 celebration.  The festival promotes economic opportunities for small-scale farmers, chefs and food producers and through curated programming, promotes Canadian cultural diversity.
"Typically, Ontario farmers will sell garlic and local chefs will cook with garlic," said coordinator Peter McClusky "The same will be true in 2020 although our mission will be to connect farmers and food producers with consumers while trying to re-create some of the experience of being at the physical garlic festival."
Meanwhile, on the East coast, Christiaan had returned to The Netherlands from the Dalhousie Agricultural Campus in March after the COVID -19 outbreak and was searching for a placement to complete his internship requirement.
Joy Galloway-Jones, Placement Coordinator at the Faculty of Agriculture, connected the two and a virtual partnership developed. "We are very fortunate to have the financial and volunteer support of our local RBC partners, particularly in this year of turns and challenges," she added.   "Some of these opportunities would not be able to happen without their generous donation."  
"There is no manual on how to put a festival online, explained Peter. "It's a challenge that hundreds of event planners are facing not only in Canada, but around the world. So, we're designing as we build."
Part of that build includes the creation of an online garlic map that will connect consumers with farmers selling garlic.
'This is a totally new and different experience for me," said Christiaan. "It is helping me work in a totally different field of business, while still being related to my work in International Food Business. I hope with my efforts, the Toronto Garlic Festival will be great, and I will have something to look back onto!
Christiaan has been working on the garlic map for the festival and integrating a live-chat function with Peter and other interns since June.
"The online sales map that Christiaan has helped to build, and the social media content and plan have been very innovative in these times of COVID," said Joy Galloway-Jones. "I am impressed with Christiaan and his classmates on their perseverance. The current world situation has definitely taught our students new skills they will be able to utilize as they continue in the International Food realm."
Since the Toronto Garlic Festival is one of only a few festivals making the move to online it was a very interesting and unique experience for Christiaan during a very difficult time in the world.
"The idea of the garlic map is that vendors who normally participate in the Garlic Festival will now sign-up to have their products and stores displayed in the map," he explained.  To make registration easier and retrieve more useful data in the process, he also worked on a Google Form that feeds information into a Google Sheet used for the map.
The Toronto Garlic Festival, September 18th and 19th, 2020 will use the map to highlight vendor items and locations. The appearance of the map and how the information is displayed, is also something Christiaan worked on with much consultation.
"I think I have done my absolute best to expand my knowledge and for the future I know how to better handle certain types of situations, more related to actual business models," he explained.  "This is because besides working on the festival, Peter has also taken some time to teach me about some of the habits of working for an employer and how that might be different in Canada than in for example Europe or the Netherlands."
The International Food Business program Christiaan is studying provides a unique opportunity for students who are interested in understanding the global food industry from the farm gate to the consumer's plate. Students are awarded two degrees within the standard four years of study: a Bachelor of Business Administration from Aeres University in the Netherlands and a Bachelor of Agriculture in International Food Business from Dalhousie.
"Christiaan is quite patient, as some of the challenges of working remotely, present themselves," added Peter.  "My instructions may not always be clear, but Christiaan has been diplomatic as we refine our communications."
The Toronto Garlic Festival takes place online September 18th and 19th can be found at www.torontogarlicfestival.ca."