News
»
Go to news main
Animals Adapting
Posted by
stephanie rogers
on July 21, 2020 in
News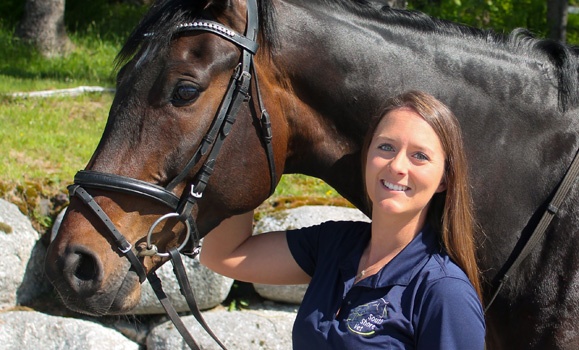 Animals adapting
Dr. Megan Crouse (Class of '11)
 "Please don't make me go for another walk!"
There's been lots of jokes and memes circulating on the internet about how our pets feel during this pandemic. Some dogs are tired of being walked, multiple times a day, by their owners who now find themselves at home, with extra time.
There are the cats who strut in front of the camera during a video meeting or are annoyed because they miss their lazy days alone. And then, of course, there are the pets loving the extra attention and will struggle with separation anxiety when life resumes normal.
While our furry friends' routines have been changing, so has the way in which they receive care.
"There are many restrictions regarding the types of patients we are allowed to service at this time," says Associate Veterinarian, Dr. Megan Crouse (Class of '11), of South Shore Veterinary Services. "It's been a difficult adjustment for ourselves, as well as our clients."
Most veterinary clinics, including South Shore Veterinary Services, in Bridgewater, NS, initially offered emergency services and life-threatening care, as well as curbside pick-up for food and products, when Coronavirus swept into Canada. They have since expanded to include essential services and telemedicine.
"It has also been difficult to deny patients services that are in need of being seen, but were not considered essential," Dr. Crouse adds. "This is where our new telemedicine option has come in very handy and we are able to service many more patients this way." Additionally, clinics, like Dr. Crouse's have been compiling lists of patients to see, once they are able.
Caring for larger animals, particularly during farm visits, has had its own set of obstacles.
"On our-farm calls we are finding challenges where owners are not permitted to be around during the work up and treatment of their animals," explains Dr. Crouse, who specializes in equine health. Spring is typically the busy season in equine, as animals receive an annual check-up. "Owners would normally be quite involved in this visit," she adds, "so these appointments are also limited to essential visits."
Although Dr. Crouse is passionate about animals, she knows a call to your local vet isn't always a good thing. To help limit emergency calls, Dr. Crouse suggests keeping all pets up to date with flea and tick preventatives, as well as essential vaccines.
"Owners can also do pasture walks for horses, to see if there has been any changes in fences or any debris that could injure them when they are moved into spring turn out," she says. For dogs, she suggests keeping them in a fenced yard or on a leash especially when out at dawn or dusk.
"We have seen a lot of dogs lately who have tangled with porcupines!"
While it has been a challenging few months for animals, owners and veterinarians, it hasn't all been negative.
"The team of staff we have left at the clinic has been absolutely wonderful. Everyone has come together to help in any way possible," says Dr. Crouse. "The phone lines have been busier than ever, but everyone steps up to help out wherever is needed. It has shown that we can do a lot when we stick together and keep positive!"
While Dr. Crouse remains positive and optimistic, she's very much looking forward to resuming "business as usual".
"It will be so nice to have clients back in the clinic and to conduct farm visits." While ours pets may have mixed reviews about the current situation, Dr. Crouse knows for certain she misses the personal connection.