News
»
Go to news main
No stranger to change
Posted by
stephanie rogers
on May 14, 2020 in
News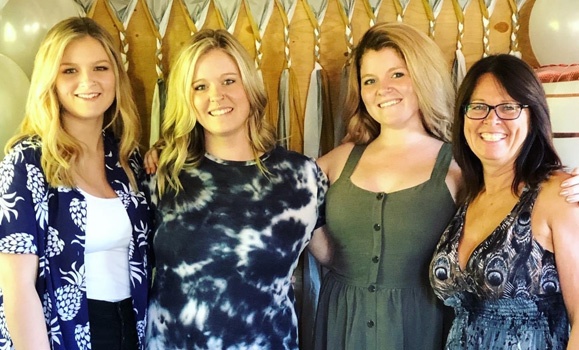 East Mountain resident Kim Munsie is no stranger to change and learning to adapt to her circumstances has been the key to her success.
Kim attended the Institute for Human Services Education and earned a diploma and a position with the Colchester Residential Service Society - a small options home for developmentally delayed young adult girls.

"I had done my work practicum for six weeks with Colchester Residential Service Society and ended up remaining there for five years as a casual employee and loved every minute of it," explained Kim.
When circumstances left her a single parent, weekend and evening shifts no longer fit the schedule for Kim and her three young daughters.
Through mutual friends, Kim learned of a full-time custodial position with the former NSAC with regular, weekday hours.  That was 13 years ago.
Today Kim remains employed full-time and is one of nearly 200 graduates from the Faculty of Agriculture set to receive her degree next week, May 20th. 
"I often said when my girls were grown, I would go back to school, explained Kim.  "If I wanted to return to the human services profession I couldn't possibly go back at my age and begin at the bottom as a casual to work up to a fulltime or management position," she added.  
When her youngest daughter was in high school, Kim began to consider how to return to school without leaving the security of her custodial position at the now Faculty of Agriculture.    
"I was constantly looking for opportunities," she said.
In July 2016, Kim walked into the Business and Social Sciences department in Cox Institute on campus and noticed a large banner promoting a new Bachelor of Technology in Small Business Management.
"I wasn't sure how, but I knew I needed to get into that course.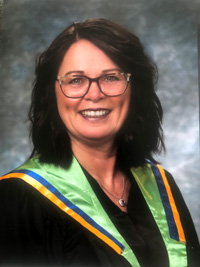 With the support of her supervisor Jason Penney, and at 52-years young, Kim enrolled in the program as a part-time student while working full-time hours in the fall of 2016 with a goal to complete the program in four years.
"Although it has been very challenging working fulltime and attending courses, I have found it very rewarding," said Kim.  "There were many days I went to work at 6am attended a class at 10am skipped my lunch hour and worked until 4pm then attended another class at 4pm- 5:30. A couple of winter semesters I came to work at 6am and never got back home until after my evening class was over at 8:30pm. Looking back not sure how I managed except that I was very determined."
Starla Hutt, Custodial Manager at the Faculty of Agriculture agrees.
"Kim is a very determined and focused person and once she has a goal in mind, she does everything in her power to reach that goal," said Starla.  "She is a born leader and is someone that many of her coworkers reach out to for advice. She is not only a colleague but a friend.  We are proud of her! Congratulations Kim!"  
At times, Kim was in school at the same time as her oldest and middle daughter and has taken some of the exact same courses at the same time as her stepson
"We are all so proud of her," said eldest daughter Brandi.  "She's an amazing woman and has accomplished so much in her life. Going back to school at her age is not an easy thing to do, even more so while working full time. I strive everyday to be the women she is. We can't wait to see what she has up her sleeve next! I'm sure it will be great. Congratulations mom! We all love you so much and couldn't be more proud."
Wanting to prove to herself and her daughters gave Kim much motivation over the past four years.  
"My biggest disappointment when Convocation was canceled was not for myself but for the missed opportunity for my daughters to see me cross the stage. I hope they will eventually get to see this. That image in my head of them and all my loved ones watching me get my degree has been a driving force for sure," she added.
Many people have asked Kim "what now?" and her reply is always the same.
"Four years ago, I knew I wanted to further my education but I had no idea how I was going to go about it, said Kim"  "Then it seems all of sudden the opportunity presented itself and I jumped at it. I am going to approach my future in the same way. I'm not going to sit around waiting for a career opportunity but when the right one presents itself, I will be prepared to pursue it. "