News
»
Go to news main
An apple a day to keep breast cancer away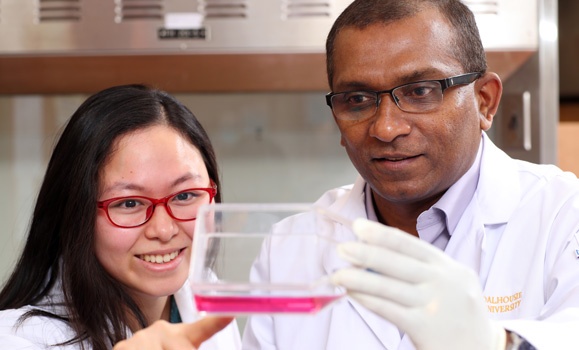 by Niecole Killawee
'An apple a day keeps the doctor away'- we've all heard the age old saying encouraging us to eat plenty of fruit everyday. But one researcher at Dalhousie University Faculty of Agriculture is taking the importance of eating fruit one step further.
Dr. H.P. Vasantha Rupasinghe is a professor and Killam Chair in Functional Foods and Nutraceuticals with the Department of Plant, Food, and Environmental Sciences at Dalhousie University Faculty of Agriculture and holds a cross-appointment with the Department of Pathology of the Faculty of Medicine. His extensive research of fruit flavonoids and their effect on human health has earned him countless recognition within the university and beyond. His research program has attracted over $7.5 million in external funding since 2004 has resulted in three patent filings, one licensing agreement, and contributions to the commercialization of over a dozen value-added food products. An accomplished and respected researcher, Vasantha continues to explore the effects of fruit flavonoids and how they can help to prevent and overcome disease. Specifically, for the last eight years, Vasantha's team has been studying the assessment of apple flavonoids in cancer prevention and treatment.
"Our recent research has been primarily focused on flavonoids, the major antioxidant components in fruits, which have remarkable power in preventing the development of oxidative stress-mediated chronic diseases and promoting human health and wellness," Vasantha explains. "One research hypothesis is that some unique flavonoids in cool climate fruits, such as apples and berries, can play as the major biologically active components of our diet to reduce the risk of cardiovascular and neurodegenerative disorders and various cancers."
Through their extensive research thus far, Vasantha and his team have found that apple flavonoid molecules are not only capable of selectively killing various breast cancer cells in test tubes, but also have shown the potential to slow down cancer cell proliferation, migration, and invasion.
"It was interesting to observe that apple flavonoids were cytotoxic to triple-negative breast cancer cells, a type of cancer cell that is difficult to treat with the currently available chemotherapeutics," Vasantha says.
Vasantha explains that current experiments show the apple flavonoids have successfully reduced the growth of human breast cancer cell xenografts of experimental animals. This research was conducted in collaboration with Dr. David Hoskin of the Department of Pathology within the Faculty of Medicine. Masters student Joe Loung and postdoctoral fellow Dr. Wasu Fernando conducted this research as members of Vasantha's team.
"We are currently looking for additional funds to expand our research on breast cancer," Vasantha says. "We wish to test the efficacy of apple flavonoids on other types of cancer cells, as well as their effectiveness of delivering them using different modes."
While the research is promising, Vasantha and his team want to continue to learn more about the benefits of fruit flavonoids. They are looking to further explain the molecular mechanisms of how apple flavonoids selectively kill cancer cells, while not harming the normal cells at the same cytotoxic concentration to cancer cells. They are also investigating the role of apple flavonoids in preventing initiation of carcinogenesis process. Ultimately, Vasantha hopes that their research will help to develop
flavonoids-based functional foods, natural health products and therapeutics to reduce the risk of certain cancers and other chronic metabolic disorders.
"We are also investigating the modification of flavonoids to improve their cellular uptake, bioavailability, and therapeutic efficacy," Vasantha adds.
Not only that, Vasantha has plans to conduct research on improving gut microbiome to promote human health through dietary interventions. He notes that there are also considerable opportunities for improving the economics and environmental sustainability of food processing by using the processing waste produced from plant-based food manufacturing as sources of food bioactives.
"In the future, our investigations will explore food wastes as under-utilized sources of high-value nutrients and bioactives," Vasantha explains. "We will investigate the applications as functional food ingredients for the prevention of selected chronic and metabolic disorders ensuring healthy lives and promoting well-being at all ages is essential to sustainable development. Food and nutritional security have become an emerging global challenge. Our applied research will attempt to design and develop the future of foods by integrating the new knowledge of discovery research of ours and others, utilization of food waste, application of modern value-added manufacturing technologies, and assessing the quality, health benefits, and marketability."