News
»
Go to news main
New Design for Cox Institute revealed at Agricultural Campus event
Posted by
stephanie rogers
on December 18, 2019 in
News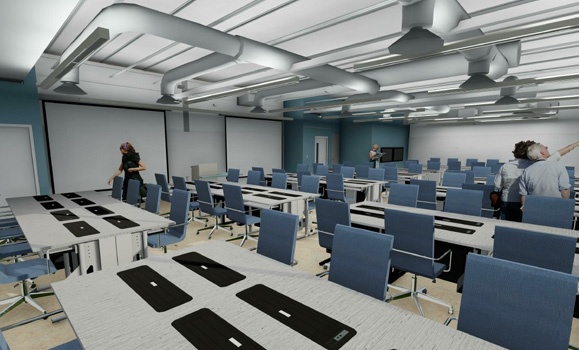 With a New Year comes new possibilities and nowhere is this more evident than with the reconstruction of Cox Institute.
After the main academic building on the Agricultural Campus was significantly damaged by fire and water in June 2018, the Faculty of Agriculture has had a long road to recovery.
The long and arduous process of cleaning and repairing equipment, salvaging research and making alternate arrangements for learning, teaching and research space has been all encompassing.
"I cannot say enough about the resilience of our faculty and staff. Although the past year and a half has had its challenges, the leadership everyone has shown has made a tremendous difference in getting us to where we are today," said Dean David Gray.
The Faculty is actively working toward a move-in date over the summer months of 2020 and opening its doors to students in September.  
Work is well under way in the facility and a packed-house sneak-peek event was held last month to reveal the design visuals of Cox East wing (formerly "Old Cox") with the campus community. The facility will look substantially different: faculty, staff and students can look forward to greater collaboration spaces, more modern layouts and amenities, and new facilities and equipment. As well, a lot of work was undertaken to bring the building, built in the 1960s, up to modern-day building codes.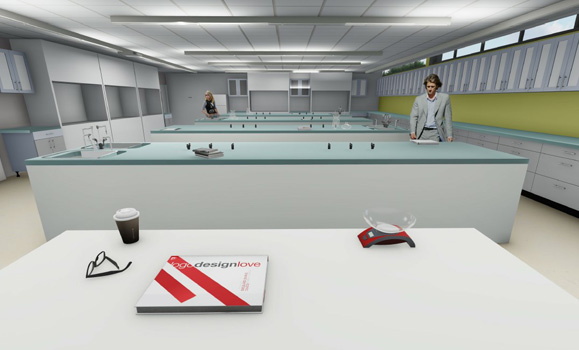 "I want to say a sincere thank you to Ian Nason, Peter Coutts and their teams who've been with us since the beginning, supporting our faculty and the recovery teams and who've been as committed as all of us to getting things back to normal for our staff, faculty and students," said Dean Gray.  
Nicola Embleton-Lake, Assistant Director Space Management, Planning with Facilities Management lent her expertise to the new space design.
Nicola and Mary-Jane Adams, then Director of Campus planning, worked collaboratively to determine how the space in East Cox worked prior to the fire. How did space relate to other spaces within the complex? How did the spaces support and interrelate with each other? What worked well in existing spaces and what did not? Where were the issues? Where did they see potential for improvement? What works best for those who use the space most often?
"This is how we learned how the building functioned and how we could potentially improve relationships and inter-relations between spaces," Nicola explained. These were the considerations and suggestions for improvements made to move towards a more effective and efficient overall layout of the complex.
 "One of our main principles is  to ensure efficient and effective use of space, it became apparent that this, like many other buildings, undergo changes at various times that need to happen but may not be in the best location or within the appropriate associations with other spaces," she said. "In laying out the program for this building we could consider those issues and provide suggestions where improvements could be made to move towards a more effective and efficient overall layout of the complex."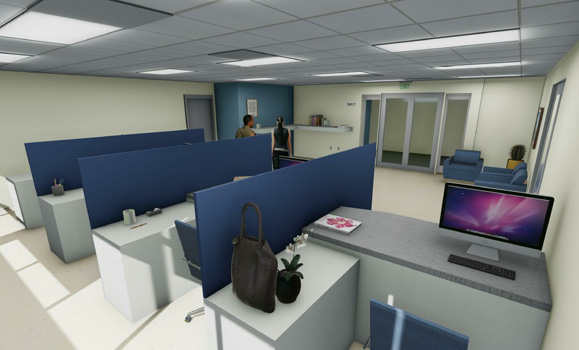 A 126-page space program has identified each space that is required and its functional and relational requirements to ensure the rebuild will address any missing pieces.
"We needed herculean efforts from members and they (from the VP to the custodian) rose to the occasion," said Nicola. "And although all space is university space, when faced with a tragic event such as a fire, the loss of the space, their teaching material, the research material all contributes to the loss and are all grieved. You must respect the grieving process and you have to help some people through it," she added.
Nicola will be submitting "Space triage in an Emergency Situation" presentation to the Eastern Region of APPA: Leadership in Educational Facilities (ERAPPA) conference in 2020 in Saint John, New Brunswick for consideration.
"The simple truth is emergencies and disasters can strike anyone, anytime and anywhere," she added.  "I see the work Mary-Jane (Adams) and I did as triaging in an emergency and I would like to present on that theme."
For those that missed the Cox Reveal event, a second opportunity to view the design visuals will take place at the Dean's Holiday reception on Thursday, December 19th from 3 – 5:00 p.m. in the Riverview Room, Jenkins Hall.