News
»
Go to news main
A Cat allergy and a Career Change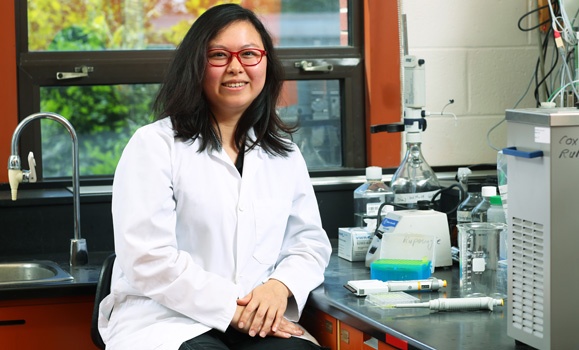 Everything changed for Cindy Yu when she found out she was allergic to cats in her third year of university.
"I came from Vancouver to study pre-veterinary medicine with plans to become a small animal vet," says Cindy.
Her newly discovered allergy led her to switch from pre-vet medicine to bioveterinary science. While it was stressful, the switch opened Cindy up to an opportunity she might otherwise not have had – undergraduate research.
"I ran into one of my first-year lab instructors and she suggested I try research, which wasn't on my radar as a pre-vet student.
"She connected me with my current supervisor, Dr. Rupasinghe, who helped identify several projects he thought I would be interested in," says Cindy adding that relationships like the one with her instructor are what make the Agricultural Campus a unique place to study.
But Cindy is quick to note that it was the David and Faye Sobey Agricultural Undergraduate Research Award that ultimately gave her focus and direction for life after her undergraduate degree.
"I found out I received the award during exam time. It was a huge relief because all year I had been trying to decide what I wanted to do after I graduated in May," she says.
She continues, "The project I'm working on in Dr. Rupasinghe's lab was the focus of my fourth-year honors project, so it's been great to continue the work I started. Without this award I may not have continued down this road.
Cindy's project is part of a larger research initiative with her supervisor, Dr. Vasantha Rupasinghe, and Dr. Sean Myles, a Dal professor located at the Kentville Agriculture and Agri-Food Canada (AAFC). Her work focuses on screening 500 different genotypes of apples for potential anti-diabetic activities by comparing the apples' ability to inhibit the breakdown of carbohydrates with an anti-diabetics drug.
And Cindy says it would be amiss if she didn't acknowledge the impact Dr. Rupasinghe has had. "His passion and curiosity towards research are inspiring and infectious and have played a huge part in my continuing interest in research."
Cindy says there have been many rewarding aspects so far, though the opportunity to attend the National Food Conference in May has been the highlight.
"Our lab went as a group and I presented my research, which was a great experience. It gave me a chance to see similar research happening across the country and learn more about their work and findings."
Though Cindy has completed her time as a summer researcher, she won't be away from the lab for long. The experience heightened her interest in pursuing a master's degree, which she will begin in Dr. Rupasinghe's lab in early 2020.
"The opportunity to continue my research this summer truly opened a brand-new door for me and gave me direction for my future. I'm thankful this award is available to agricultural campus students."