News
»
Go to news main
Dalhousie Faculty of Agriculture to honour local Volunteer
Posted by
stephanie rogers
on October 15, 2019 in
News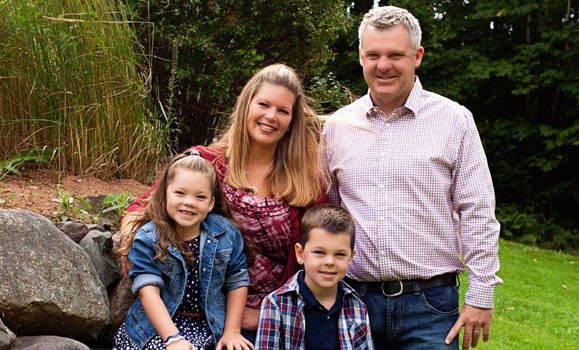 Volunteers are the backbone of any great community, selflessly giving of their time for the betterment of others.  The Blue and Gold Awards program at the Faculty of Agriculture will honour its Volunteer of the Year at its annual awards dinner this Friday, October 18th.
The Blue & Gold Awards honour alumni who have distinguished themselves through outstanding service to the alma mater, their communities, Atlantic Canada and beyond.

The Volunteer of the Year Award, created in celebration of the Faculty of Agriculture's centennial, honours volunteers who have consistently and enthusiastically donated their time and talents to advancing the objectives of the Faculty and/or the Alumni Association. Recipients have also represented the Faculty well as an ambassador in their community, generously giving their time to support others.
Andrew Lake is a is a lifelong resident of Truro.  He earned his diploma in Engineering at the former Nova Scotia Agricultural College, then completed his Engineering degree (civil) at the former Technical University of Nova Scotia, now Dalhousie University.  Andrew then went on to complete a master's degree in Asphalt Science at the University of Nevada - Reno and worked in California before returning to the family business in 2001.  Andrew is the Vice President of Will-Kare Paving & Contracting Limited and is an Estimator/Project Manager within the company.  
"A lot of what I learned at the AC, I use in my work environment," Andrew explained.  "My education gave me the problem-solving skills which is probably what I use the most on a daily basis."
With two school-aged children, Andrew takes an active role in their extra-curricular activities.  Andrew volunteers his time with Scouts Canada, CC Riders Soccer and the Truro and Area Minor Hockey Association.  
"If you are going to live in the community and make the best of the community and have your kids appreciate the community they live in, being involved is what's all about.  It's important to me.  You can only get out what you put into it."  
Andrew is also past president of the Nova Scotia Road Builders Association and the Truro and Colchester Chamber of Commerce, where he served two terms as President.  He remains involved in Chamber activities and sits on various sub-committees.  
"The Truro and Colchester Chamber of Commerce has been advocating on behalf of the business community since 1891," explained Andrew.  "I've really enjoyed my time there.  I've had the opportunity to meet people from all facets of society whether its business owners, academia, political leaders… its been very rewarding."
Andrew is also a local champion for the Canadian Mental Health Association - Colchester-East Hants Branch and sits on their "Branching Out" Fundraising Campaign Committee. It is an organization that is near and dear to his heart.
"My mother struggled with mental health issues for 25 years of her life and upon her passing my sister and I reached out to the Canadian Mental health Association here in Truro," he explained.  
Andrew and his family identified some gaps in the system that would have supported his mother had they been available.  Through discussions with CMHA they were able to build and support some important programming.  
"My work with mental health has been particularly rewarding," Andrew explained.  "Approaching donors and talking about why its important to support the efforts of the CMHA - through discussions, donors have opened up about their own connections with mental health issues.  It's a disease that touches everyone.  Being able to relate my own experience and be an ear for someone else has been very rewarding."   
Kane's Kitchen and St. Vincent de Paul Society have also benefited from Andrew's philanthropy and he is an advocate for small businesses and economic prosperity within our region. He is quick to volunteer his time to serve others and his community.
"I would encourage students to build their networks, they become your friends and family.  There are volunteer opportunities for everyone.  Don't get hung up on the time commitment.  Focus on something that appeals to you and go from there."
Congratulations!