News
»
Go to news main
An apple a day
Posted by
Stephanie Rogers
on June 14, 2019 in
News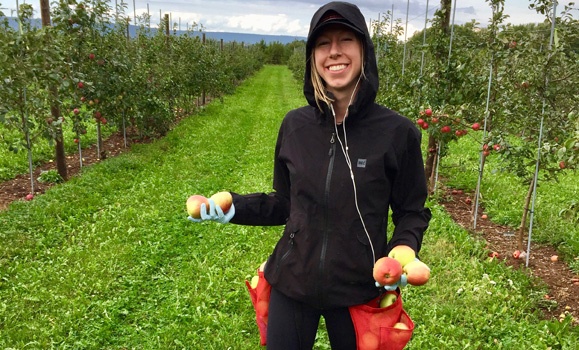 If an apple a day keeps the doctor away, Sophie Watts (Class of 2020) doesn't have to worry. Taste-testing over 800 varieties of apples is just a typical harvest season for this graduate student.  
"My biggest accomplishment, but also my biggest challenge, so far has been harvesting over 800 apple varieties in the orchard," Sophie smiles. "It was a lot of work and took me all fall but it was also super fun because I got to taste them all during the process!"
A Masters degree candidate at Dalhousie University Faculty of Agriculture, Sophie is studying the Apple Biodiversity Collection as part of her research. Supervised by Sean Myles, Sophie's research is looking at creating more sustainable, and tastier, apples.
"I'm doing this by studying the apple orchard over multiple years for traits that determine fruit quality and are therefore targets for apple breeders," Sophie explains. "I measure over 40 different traits on each of those apples' trees."
Some of the traits Sophie is measuring in different apple varieties include things like sweetness, firmness, storability, juiciness, acidity, and frost damage susceptibility to name a few. She measures these traits from apples in the Apple Biodiversity Collection to pinpoint which traits may want to be incorporated into varieties to help improve apples.
The Apple Biodiversity Collection (ABC), from which Sophie is gathering her data, is recognized as the most diverse collection of apples in the world. Located in Kentville, N.S., the ABC is a collaboration between Agriculture and Agri-Food Canada and Dalhousie University. It is home to over 1,000 apple varieties, including dessert and cider apples, heirloom varieties, and apples from as far as the forests of Central Asia. The ABC looks to efficiently breed new apple varieties that are delicious and require less chemical input to grow.
"The Apple Biodiversity Collection is one of the largest, most diverse apple collections in the world!" Sophie explains. "It makes researching this orchard a great opportunity that is also very unique. My supervisor, Dr. Sean Myles, and post-doc colleague, Dr. Zoe Migicosvky, are very supportive and knowledgeable."
Sophie is also a recent recipient of a Natural Sciences and Engineering Research Council of Canada (NSERC) graduate scholarship. This award will help offset costs for Sophie during her Masters research.
"I am very happy and thankful to have been awarded an NSERC scholarship," Sophie smiles. "It's a really big help to have this funding to do this research."
Originally from Halifax, N.S., Sophie completed her Bachelor of Science in Agriculture degree through the University of Guelph in Ontario. It was Sophie's passion for food and agriculture that led her to Dal's Faculty of Agriculture to complete her Masters degree. Prompted by the reputable research program and high-quality labs, Sophie began her graduate studies in September 2018. Through her research, she not only hopes to improve apple varieties, she also hopes to increase the overall understanding of apple biology.
"By working with such a diverse collection of apples, I hope to raise awareness of how important biodiversity is in agriculture and emphasize that we need to use that diversity in order to improve our agricultural crops."
Adds Sophie, "I really love food and care about how we grow food and will continue to do so in the future with challenges from climate change. I saw this research as a way to work on one of Canada's most important food crops and figure out how we can create apples that are tastier and more sustainable. I will continue working on my project and hopefully uncover valuable insights about apples and how we can improve them."