News
»
Go to news main
Shining Stars in Agriculture ‑Liz and Maryella Maynard
Posted by
Stephanie Rogers
on May 23, 2019 in
News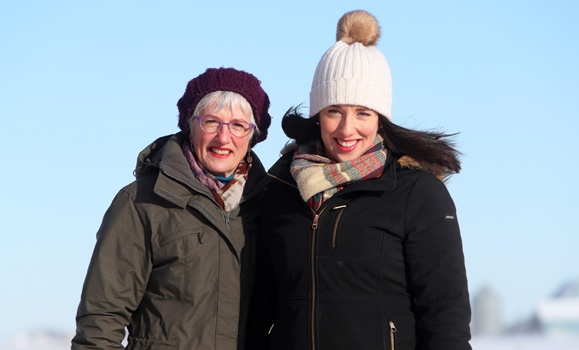 We recently chatted with several women, working in a variety of roles in agriculture. We asked these women the same questions, learning about their experiences and opinions as they contribute to the industry.
Liz (MacDonald) Maynard - Class of '76
Farm Credit Canada PEI, (retired)
The Importance: The involvement of women is important to agriculture because of the skill sets, communication abilities and knowledge that women bring to the industry. Women continue to be involved in the so called "traditional roles", however the industry is recognizing and placing more value on these roles and the evolving roles of women in the industry. Perhaps another way to state this is that the "traditional roles" in agriculture that were once somewhat gender specific are less so now. Who changed; men or women? I suggest it doesn't matter because agriculture is stronger and better equipped to face future challenges with women involved everywhere.
Inspiration: Agriculture is an exciting industry due to constant change, the passion of those involved in it plus the players are very interesting, knowledgeable and generally optimistic. My career allowed me to play an important role in the building and delivery of the varied and exciting facets of farming.  I continue to find it personally rewarding to be a part of this industry.
Misconception: The biggest misconception about women in agriculture is held by women; namely that we do not have the necessary skills and knowledge to take on leadership roles in farm organizations. Women have tended to under estimate their capacity for leadership roles.
Advice: I would simply say "go for it". Be aware of and don't undersell your talents and value. Build a network both inside and outside the industry of people who will be your champions.
Maryella Maynard - Class of '09
PEI Agromart
The Importance: Agriculture has so many opportunities for women. It is an industry that is looking to young people to become leaders and there is a major place for women.
Inspiration: Farmers.  In the face of hardship, stress, tough markets, tough conditions they still manage to be optimists.  They are some of the most resilient people you will meet. Despite the challenges they face, they continually try to learn and do better.
Misconception: Women have made great strides in taking on and being accepted in professional roles within agriculture.  From vets to bankers, women are on farms and respected.  I do feel that among some, there is still the misconception that the job of farmer, is for a man.
Advice: 100 percent do it.  There are so many opportunities in agriculture for young, smart, ambitious people.  It is constantly evolving, you never stop learning and you get to work with some wonderful people.