News
»
Go to news main
Registration now open for Awtiget Indigenous Student Mini‑University Camp
Posted by
Stephanie Rogers
on April 18, 2019 in
News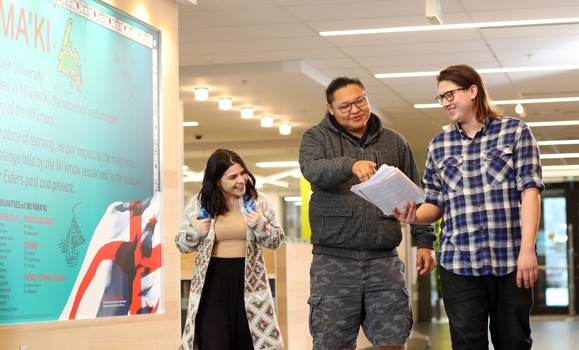 Clearing a path for Indigenous students on the Dalhousie Agricultural Campus is the intent behind a new program to help immerse students in university life.  
Awtiget Summer Camps, meaning 'clearing a path' in the language of the Indigenous Mi'kmaq community, will be offered to Indigenous students in grades 8 to 11 over a weekend to immerse them in university life.  Students will attend classes, stay in residence and experience extra-curricular activities.  

"I believe the Faculty of Agriculture is well-poised to meet the needs of Indigenous students and is in close proximity to four of the 13 First Nations communities," said Indigenous Student Manager Art Stevens.  "Camps such as these help to build relationships and help students to see themselves on the campus while emphasizing this is their community as well."

Awtiget, open to all Indigenous students (First Nations, status/non-status, Métis and Inuit) in Grades 8 to 11 provides students with a taste of university life. Students will experience a weekend packed with academic, physical, creative, cultural and social activities.
This camp provides a perfect opportunity to learn first-hand all about post-secondary education and envision educational options in the future.  Farm Credit Canada has provided $30,000 over the next three years to support this innovative program for Indigenous students.  

Awtiget is one of two programs at the Faculty of Agriculture designed exclusively for First Nations, Metics and Inuit students.  The Indigenous Student Access Pathway (ISAP) is designed and delivered as a one-year program to students who would not otherwise be eligible for admissions and who would benefit from dedicated supports while transitioning to a university environment.

Throughout the student experience there are opportunities for community involvement, access to Dalhousie's Elders in Residence program and more.  By immersing students in a strong and supportive network of faculty, staff and peers the ISAP aims to provide both the tools for navigating post-secondary and a culturally supportive environment needed to success.

"The Indigenous Pathway program will help transition students who need additional assistance to guide them through the university experience," explained Millbrook First Nations Chief Mr. Bob Gloade.  "Any way we can help to bridge the gap for our community members is extremely beneficial.  This is another positive sign of the cooperation between our communities and institutions to help improve opportunities for our learners."  
The first Awtiget Summer camp will be held May 24th – 26.  To register please visit dal.ca/awtiget