News
»
Go to news main
Dr. Jin Yue receives honourary Barley Ring
Posted by
Stephanie Rogers
on April 9, 2019 in
News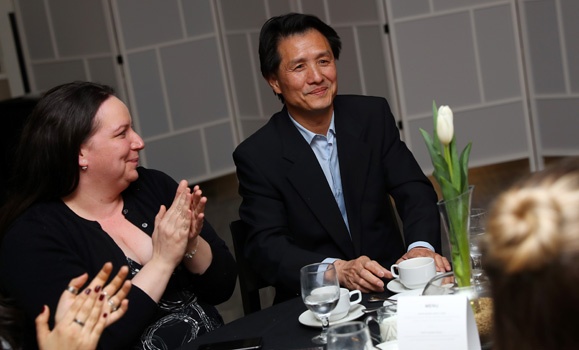 Each year, graduating students gather in Jenkins Hall to enjoy a delicious meal and accept their long-awaited Barley Ring at Dal AC's annual Barley Party. Every year among the crowd is one unsuspecting recipient who will receive the prestigious honourary Barley Ring.
As part of the Faculty of Agriculture's ring tradition, the Alumni Association allows for an honourary ring to be presented annually during the Barley Party to an individual who does not meet the criteria to be eligible for a Barley Ring but who is extremely deserving of the honour. These individuals are ambassadors and supporters of the institution. They have made outstanding contributions to the Agricultural Campus community and truly depict the characteristics of an AC alumnus.
This year's recipient has been a staple to student success on the Agricultural Campus since January 2009.  Dr. Jin Yue, or Jin as students call him, is a senior instructor in the Department of Engineering who always strives to help his students succeed. He teaches calculus to many of the first-year students, which can sometimes be a challenging course for students. Despite the challenging course content, he's known for his great sense of humor and ability to make his lectures enjoyable for every student.  An approachable and outgoing professor, Jin ensures that his students understand difficult concepts and are aware of the various services available to enrich their knowledge and understanding.
"From my perspective, what is most interesting or captivating about Jin, and why I nominated him for this award, goes beyond his academic commitment to students on campus," explains Robert Larsen, second year of a Bachelor of Science (Agriculture) student and VP Finance for the Dalhousie Agricultural Students' Association. "It is more a reflection of his dedication to enhancing students experience and his genuine interest in many of the events and activities happening on campus for students. Jin embodies and exemplifies what it means to be a true Aggie!"
It's clear that Jin is passionate about the material he teaches as he incorporates many innovative teaching methods, constantly engaging his students. He is a champion for student success and cheers both large and small victories for those in his classroom and he is always concerned with improving his classes to satisfy his pupils' needs. On top of his teaching duties, Jin can often be found offering extra help to students in math, physics, and engineering every day of the week. He even created the Math and Physics Help Centre (MAP Centre), a place for students to seek extra help with their studies in math and physics.
"My goal as an instructor is to provide strong support for student-oriented learning." Jin explains. "I believe the best way an instructor can support student-oriented learning is by understanding and meeting students' varied objectives, teaching with clarity and structure, recognizing different learning styles, and stimulating student participation and interactions. Understanding students' varied objectives is crucial for an instructor to effectively motivate learning."
Jin is truly an Aggie at heart. He is passionate about Dal AC and its traditions, which is made clear through his involvement on campus. His presence is always felt at College Royal where he is always found engaging with participants and asking them about their animals. He is a supporter of the athletics teams on campus, especially the Woodsmen Teams. He has hardly missed a Woodsmen weekend and can even sometimes be found participating in a practice. Students involved with Dalhousie's Agricultural Students Association can always count on Jin to promote and event attend, their events.
"Jin Yue is ubiquitous on this campus," says Colette Wyllie, chair of the Faculty of Agriculture's Alumni Association. "He never misses an event if he can help it and he's always on the move. You can spot him strolling around campus, dropping in at DASA or tending to his Community Garden plot on any given day and he makes a concerted effort to get to know everyone that crosses his path. He goes above and beyond as a community member here. The Agricultural Campus would not be the same without him and that's truly what makes him an Aggie."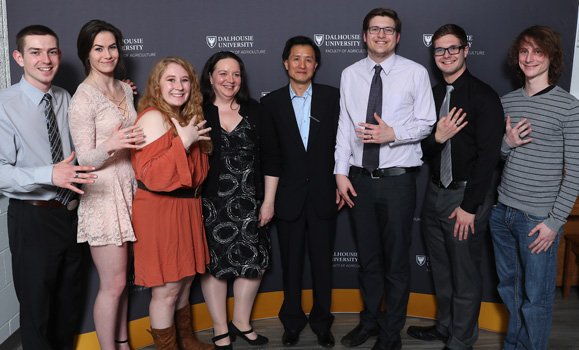 With Master's degrees in both mathematics and statistics and a PhD in mathematics, Jin conducts research on campus focusing on bio-system modelling, statistical analysis and more.
His dedication to his students, both academically and through extracurriculars, is what makes Dr. Jin Yue more than deserving of the honourary Barley Ring this year. An ambassador of the Ag Campus and a supporter of the institution and its students, Jin is a true testament to what it means to be an Aggie. It is certain that he will wear his Barley Ring as proudly as he represents Dal AC.