News
»
Go to news main
International Travel Enriches Student Experience
Posted by
Stephanie Rogers
on February 28, 2019 in
News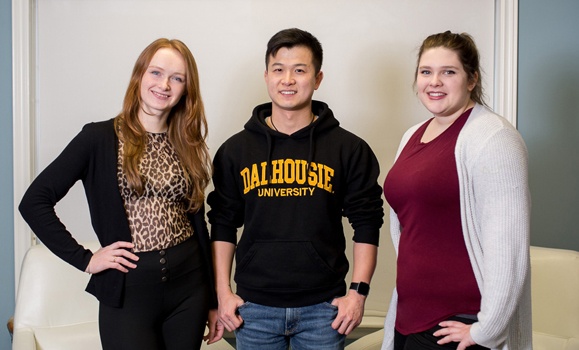 Three Faculty of Agriculture graduate students recently had the opportunity to travel to Ethiopia as part of one of the largest international development projects ever awarded to a Canadian University.
Funded by Global Affairs Canada, Agricultural Transformation Through Stronger Vocational Education (ATTSVE) is an $18 million project designed to enhance the capacity of the Ethiopian technical and vocational training system to prepare skilled, competent, technical graduates.  Dalhousie is the lead of four partner institutions implementing this project and the students were in attendance at the second national conference for Ethiopian Agricultural colleges held as part of this project.
Agriculture remains an essential sector to support economic growth and poverty alleviation in Ethiopia. It also plays an important role in the industrialization and overall transformation of the broader economy.
Agricultural technical and vocational institutions are now adapting their programming as well as instructional methods to equip their graduates to meet the market-oriented, entrepreneurial and labor market demands of the present and future.
The conference, held at the end of January, was attended by over 200 key representatives from colleges, private sector, government, development partners, regional and international community members and other key stakeholders and provided a forum for dialogue and exchange on key challenges and opportunities to unlock the potential of the college ecosystem in Ethiopia.
"This conference was a great opportunity to share ideas, concepts and insights and enable Ethiopian, Kenyan and Canadian participants to work together to develop sustainable solutions for Agricultural colleges in Ethiopia," said Hannah Pugh, ATTSVE Project Coordinator.   "The key outcomes were to celebrate best practices, discuss challenges facing education and develop recommendations for the future of the college system to share with stakeholders and policy makers.  Adding Faculty of Agriculture graduate students to the conference brings a valuable international dimension allowing discussion around research that could also be beneficial to an Ethiopian audience," she added.
Faculty of Agriculture graduate students were a highlight of the conference as they shared their research with this global audience.
Hugh Lyu, originally from Fujian, China is pursuing a Master's degree under the supervision of Dr. Scott White on vegetation management in Nova Scotia wild blueberry fields. No stranger to travelling, Hugh enjoys experiencing different cultures, landscapes and people.
"Ethiopia is such an historical and fast-growing country," said Hugh.  "I was able to share my international and Canadian experience, as well as information on the wild blueberry industry in Nova Scotia," he added. "I have to say we are so lucky to study at the AC which provides international opportunities to students and faculty members.  Agriculture grows locally, but it can be shared and developed internationally."
East Stewiacke, Nova Scotia native Ashley MacDonald is completing graduate study in Agricultural Business with a focus on food waste in Canada.  Her research uses a variety of qualitative and mixed research methods to identify the cultural and behavioral practices of stakeholders at the end of the food supply chain that leads to food waste. She is also currently working on a national agriculture project looking at agricultural water management and irrigation as a means of reducing greenhouse gas emissions on livestock productions.
Having grown up spending time on her grandparent's beef farm and uncle's egg and poultry farm, Ashley has always had a personal connection to the agricultural community and is keen to continue working to expanding her knowledge and contributing to the industry and the global community.
"Not only did this trip provide me with an opportunity to experience another culture, it has also allowed me to bring my experience home and share it with people and change their perception of Ethiopia," she said.
Ukrainian native Ivanna Bashkir, a graduate student in the Department of Engineering under the supervision of Dr. Alex Martynenko is working on the development of innovative drying technologies
"Ethiopia was like a new world for me, which I wanted to explore more and more," explained Ivanna.  "People were so kind and friendly. Their culture is one of the oldest in the world and it was a huge pleasure for me to participate at the conference in Ethiopia. This trip has enriched my life experience and knowledge."
Ivanna's project is focused on research and development of Electrohydrodynamic (EHD) drying. EHD is novel energy and cost efficient drying technology, essential for extending the shelf life of fruits, vegetables and other foods, resulting in a higher quality product than traditional drying technologies.