News
»
Go to news main
Believe That you Can
Posted by
Stephanie Rogers
on January 23, 2019 in
News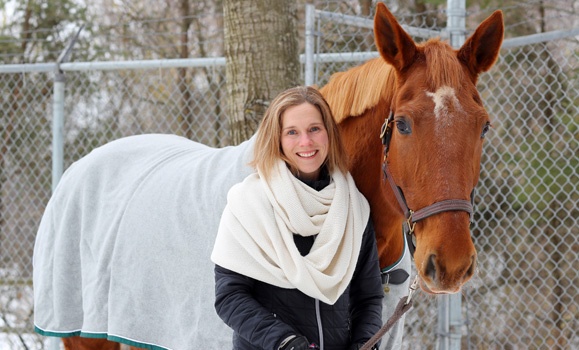 By Emma Geldart
Dara Pelkey-Field (Class of '02) does not simply back down from a challenge. Her determination and believe-that-you-can attitude has landed her a career that she loves and the title of top female triathlete in Nova Scotia. Despite these notable accomplishments, both journeys certainly gave Dara a run for her money.  

Growing up in Fredericton, New Brunswick, Dara moved to Truro to attend Dalhousie University Faculty of Agriculture (then known as the Nova Scotia Agricultural College). Despite advice from a high school guidance counsellor discouraging her from pursuing a science based program, Dara earned her Bachelor of Science degree majoring in animal science. She then went on to complete a Master's of Science degree from the University of Edinburgh in Scotland.
"I had a guidance counsellor in high school try to give me a 'pep talk' that was directed at steering me away from the sciences as mathematics were never a strong point for me," Dara explains. "I loved biology and all of the science, so I decided to decline the suggestion and pursue science anyway."
Dara now works as an instructor in the Department of Animal Science and Aquaculture at the Faculty of Agriculture. She is also the manager of the equine facility on campus. She currently instructs courses in general equine biology, equine genetics, reproduction and facility management, and is the lab instructor for an equine fitness and health course.
"I hope to grow the availability of the equine course offered at our campus," Dara says. "We are the only university east of Ontario to offer degree level equine science courses which adds to the uniqueness of our school."
Dara's success in her career is matched by her personal success in athletics. Always involved in sports, Dara's determination to succeed has made her a successful equestrian and triathlete. Growing up, horses and show jumping have always been her main focus, with some volleyball and field hockey thrown into the mix. About seven years ago, Dara began running competitively. Looking for more of a challenge, Dara took up biking and began competing in duathlon, a competition that combines running and biking. In 2015, Dara and her husband, Mike, qualified and competed in the World Duathlon Championships held in Adelaide, Australia.
"Mike, who is primarily a hockey player, decided he wanted to try doing triathlon and went to a few competitions with one of his friends," Dara explains. "I went to cheer them on and realized I don't make a very good fan! I really wanted to compete as well but had a pretty serious water phobia. Mike suggested duathlon and that's how I got started."
With her success competing in duathlons, Dara was still hungry for more. Running and biking came naturally to Dara but she had a phobia of water holding her back from competing in triathlons. Competing in swimming was out of the question- until recently.
"Last year, Mike decided he wanted to attempt the Ironman 70.3, a long distance triathlon race and true to my form, I really didn't want to be left out- so I signed up too!" Dara laughs. "Mike said, 'But you don't know how to swim,' and I said, 'I guess I will have to learn.'"
After countless hours in lakes and pools with the help of Mike and some great friends, Dara's fear of the water slowly evaporated.
"I tested Mike's patience and lifesaving skills more than once!" Dara smiles. "The swimming is still the hardest part for me. I am easily psyched out if the conditions aren't perfect and I still don't have a lot of confidence in the water. I still panic a bit, but I have some wonderful training partners who help me and sometimes have to literally hold my hand. I am committed to getting better and stronger and building my confidence. But I have learned to swim and can now call myself a triathlete!"
Dara follows a rigorous training schedule to ensure she stays in tip-top shape for all sports she is currently involved in. While triathlon certainly holds a place in her heart, its show jumping that is her true passion and really gets her blood pumping. During the off-season, Dara trains with her horse, Ava, four to five days a week. During peak show season, her training is increased to six days a week and competitions nearly every weekend. In addition to her equestrian training, Dara trains just as hard with Mike and some of their friends for triathlon.
"We usually swim three to four days a week, run three days a week and bike three or four days," Dara says. "It gets to be an intense schedule leading up to racing season and we try to stagger the sports as much as possible so we aren't doubling up on too many days."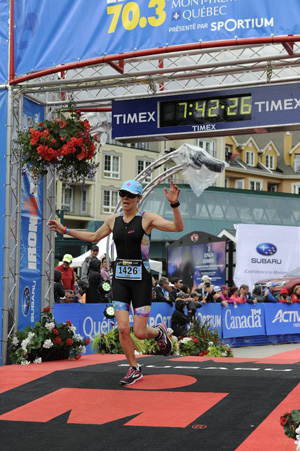 Dara's hard work has certainly paid off. This year, she competed in 10 triathlon races, eight of which were Triathlon Nova Scotia point's series races. By racing at Triathlon Nova Scotia sanctioned events, participants earn points which, based on their top five races, are tabulated as a season score. Dara finished this season as the top female triathlete in Nova Scotia, a feat she would have not imagined a year and a half ago.
"Honestly, it's surreal," Dara says. "A year and a half ago I quite literally could not swim a single length of the pool, which is 25 metres. In June, I finished the Ironman 70.3 which had a 1.9 kilometre swim component. I would have been quite happy just completing the races, let alone being a top finisher in some."
For Dara, it's the mental component that has made her a successful triathlete. While she admits that the sport tested her as much mentally as it did physically, she believed that she could do it and she did. She preaches this advice to anyone looking to achieve a personal goal.
"Believe that you can!" Dara exclaims. "As soon as you eliminate any excuses you may have, you will open a door for yourself. There is no better feeling than crossing the finish line!"