News
»
Go to news main
McCain Research Chair at Dal AC working to develop new farming technology
Posted by
Stephanie Rogers
on January 8, 2019 in
News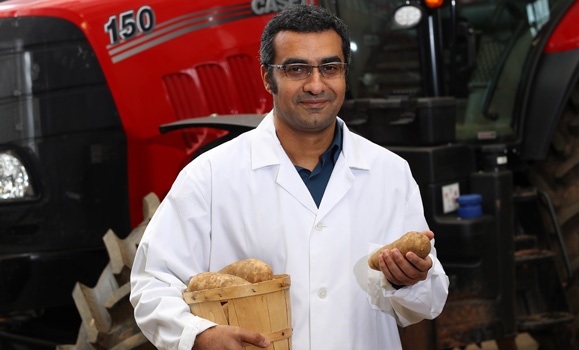 By Emma Geldart

For some farmers, gone are the days of hand milking cows and cultivating fields using livestock. Traditional, often laborious and time consuming, farming practices are few and far between thanks to new technologies which lessen the workload for farmers. One researcher at Dalhousie University Faculty of Agriculture is working to continue to further develop sustainable methods of farming to produce the food that we eat through smart agriculture, sensing and automation in the fields.
Dr. Ahmad Al-Mallahi was welcomed to Dal AC in October as the McCain Research Chair and Assistant Professor in the Department of Engineering. Born and raised in Kuwait, Ahmad and his family moved to Jordan when he was 13 years old. Ahmad began his post-secondary studies as a physics student in Jordan but quickly learned that was not quite the right path for him.
"I met a friend who introduced me to agricultural engineering," Ahmad says. "I liked the concept of applying physics on biology with the ultimate goal of providing enough food for the population. I decided to change my major starting in my second year."
Ahmad earned his B.Sc. (Agriculture Engineering [Power and Machinery]) at the Jordan University of Science and Technology. Upon completion, Ahmad began working as an engineer of off-road vehicles in a road construction project. Three months into the job, Ahmad was in a car accident.
"That was a turning point in my career," Ahmad explains. "I had to be off of work for more than four months during which I gave a lot of thought about my future career. I decided then to continue my graduate studies. In 2004, I moved to Japan where I studied and worked until moving to Canada in October."
During his studies in Japan, Ahmad completed his MSc in Crop Production Engineering and PhD in Bioproduction Engineering through Hokkaido University. After several years of industry experience with Amino Up Chemical of Japan and German corporation, Bosch, he is excited to begin his adventure in academia at Dal AC.
Ahmad's current research focuses on improving the efficiency of crop production operations. Specifically, he is looking to develop smarter machines to assist farmers in crop planting, harvesting, and cultivating.
"This means that machines must be equipped with the correct sensors to assist them in making decisions," Ahmad explains. "Sensors can do many different things but a few of the sensors I am working with are ultrasonic sensors to measure distances, light sensors to detect obstacles and environmental sensors to understand the conditions around the machines."
The ultimate goal of Ahmad's research is to develop machines and equipment with precise operations to reduce the amount of waste output while producing food. As with any research, Ahmad has faced many challenges with developing sensors to be used on farming equipment. Some of his biggest challenges have been optimizing the sensors to meet the objectives of his research, irregularities in crop production and the broad customer base for the final products.
"One challenge we've faced is that each crop requires its own equipment to meet different needs- planters, harvesters, sorters and more," Ahmad explains. "This can get expensive because the number of customers for each piece of equipment is limited. The challenge now is to develop systems, whether sensing or actuating systems, to be scalable so that they can be applied in different scenarios."
Although Ahmad has faced some challenges, he's certainly reached many accomplishments with his research. One of his most notable accomplishments so far has been developing autonomous implements to work with robotic tractors.
"Nowadays there are unmanned tractors that can scan the fields by GPS," Ahmad explains. "What I've done is develop some implements so that the attached equipment can send commands to the tractor. They could also send a report to the tractor about how their performance has been. For example, a planter will monitor itself and inform the tractor to stop when the seeds in the tank are about to run out."
In addition to teaching students at Dal Ac, which will begin next winter, Ahmad will work as a research chair on campus through McCain Foods and Potatoes New Brunswick. His research program will be built in partnership with McCain Foods of Florenceville, New Brunswick as well as the Potato Board to identify challenges with potato production. Within the potato industry, Ahmad will provide leadership and support in the areas of sensors and automation for the advancement of smart agriculture technologies. His work will look to tackle the identified challenges by building a research team to conduct research, build prototypes and finally, contribute in building a system to better serve the industry.
"For me this position as a research chair came as the perfect time as it requires close relationship with the industry while building a research program that will help to train highly qualified students," Ahmad says. "What makes me feel even more excited about this position is that my PhD thesis was about potato production. The fact that not only the field of study but also the crop in question is very close to my expertise let me feel more attached to this position."
"I certainly did not hesitate when I was offered the position although I had to change countries to be here."