News
»
Go to news main
Faculty of Ag Ph.D. student wins top award at Atlantic Cancer Research Conference
Posted by
Stephanie Rogers
on November 13, 2018 in
News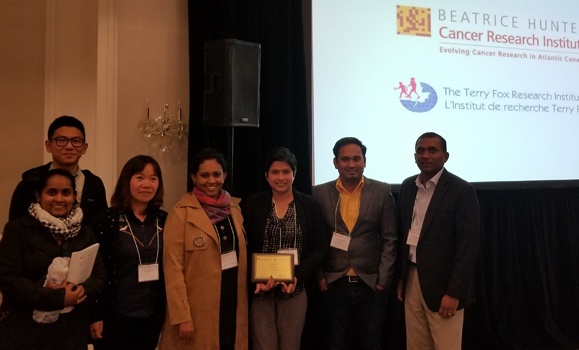 Madumani (Madu) Amararathna is a second year Ph.D. student of the Interdisciplinary Ph.D. program of Dalhousie University.
Madu completed her M.Sc. degree in the Winter of 2017 at Dal-AC under the supervision of Dr. Vasantha Rupasinghe, Professor and Killam Chair in Functional Foods and Nutraceuticals.
Her M.Sc. thesis aimed to understand how dietary polyphenols help protect healthy lung cells once they are exposed to genotoxic and carcinogenic chemicals such as hydrocarbons in cigarette smoke.
Inspired by the outcome of her M.Sc. thesis research and passion for the cancer research, Madu decided to continue her graduate studies toward a Doctorate. For the Ph.D. investigations, Madu is using experimental animals to learn the role of haskap berry polyphenols in lung cancer prevention.
Madu was among a few trainees whose abstracts were selected for the platform oral presentations at the 7th Cancer Research Conference in Atlantic Canada sponsored by Beatrice Hunter Cancer Research Institute (BHCRI) and the Terry Fox Research Institute (TFRI).
The conference was held at the Lord Nelson Hotel in Halifax during November 5-6, 2018. Madu received the first place platform presentation award for her talk on "Cyanidin-3-O-glucoside-rich haskap berry administration suppresses the carcinogen-induced lung tumorigenesis in A/J mice.
After receiving this award, Madu expressed "I feel honored and grateful that our research with plant-food extracts in cancer prevention has been recognized at the BHCRI/TFRI Cancer Research Conference."
?Billions of dollars are being spent on finding cures for various cancers in North America. The economic burden of cancer care in Canada is substantial. However, a less attempt has been made for the research on prevention of cancer," said Madu's academic supervisor, Dr. Rupasinghe.
"The healing effects of haskap berry were well known amongst the Japanese Ainu aboriginal people for thousands of years. We are using this unique climate-resilient berry as a model plant-food to demonstrate the contribution of dietary bioactives such as flavonoids in cancer prevention as well as to better understand the underlying molecular mechanisms in cancer chemoprevention," said Dr. Rupasinghe.
The research will be continued to develop potential cancer preventive food ingredients and natural health products.
Madu's advisory committee consists of Dr. Vasantha Rupasinghe (Supervisor, Department of Plant, Food, and Environmental Sciences, Dal-AC), Dr. David W. Hoskin (Co-supervisor, Department of Pathology), Dr. Paola Marcato (Department of Pathology), and Dr. Kerry Goralski (School of Pharmacy). Madu's research is supported by the BHCRI with funds provided by the Saunders-Matthey Cancer Prevention Foundation Award as part of the Cancer Research Training Program. As well, the NSERC and Killam Chair funds of Dr. Rupasinghe.