News
»
Go to news main
The Undies don't lie: we've got good soil!
Posted by
Colette Wyllie
on July 27, 2018 in
News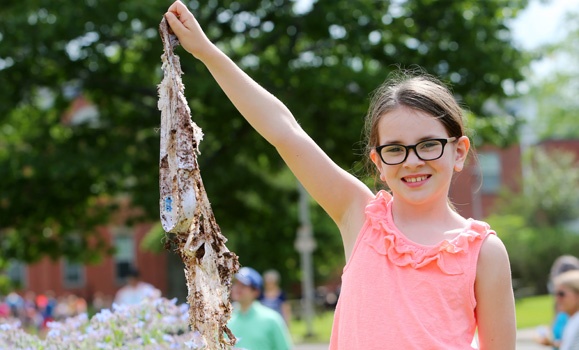 In April of this year, the Agricultural Campus took part in the launch of the 2018 Soil Your Undies campaign, led by the Soil Conservation Council of Canada and sponsored by Stanfield's Ltd.
As part of National Soil Conservation Week, several pairs of Stanfield's 100% cotton briefs were buried in the raised bed in the Horseshoe with help from local schools. The hope was that the underwear would decompose over the following months thanks to the hard work of the insects and microbes living in the soil. However, this would only happen if the soil is biologically active – an indicator of healthy soil. Upon retrieval in July, if the undies were still intact, the soil is lacking in biological life – usually from overuse.
On Thursday, July 19th, as part of Community Day festivities, several pairs of the soiled undies were extracted – or rather, what was left of them. All pairs were revealed to have decomposed to some degree, with some pairs having only a waistband remaining! Soil organisms in this space have clearly been very busy since April, which is good news for the borage and daisies currently growing in the bed.
There's still time in 2018 - join the movement and bury your own pair of undies to better understand the biological activity that goes on underground in your yard. You may be pleasantly surprised, or you may find you need change your gardening habits. Whatever you find, be sure to share on social media with #SoilYourUndies and keep the conversation going all year long.
For more information on soil conservation, please visit www.soilcc.ca