News
»
Go to news main
Dr. Vasantha Rupasinghe receives recognition from the national food association
Posted by
Stephanie Rogers
on June 22, 2018 in
News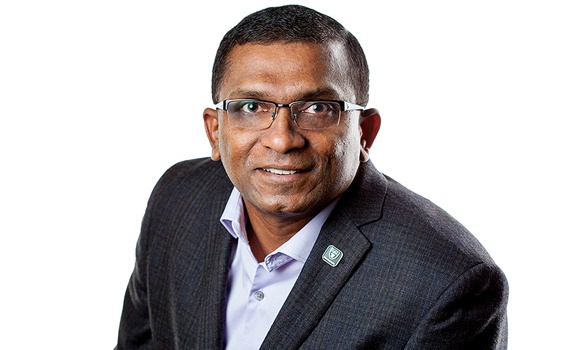 Dr. Vasantha Rupasinghe was recently named a Fellow of the Canadian Instititue of Food Science and Technology (CIFST)
Founded in 1951, CIFST is the national association for food and beverage sector professionals. Its membership of approximately 1,000 individuals is comprised of scientists and technologists in industry, government and academia who are committed to advancing food science and technology.  
On behalf of the Canadian Institute of Food Science and Technology, it was my honor to bestow the title of Fellow of the Institute to Dr. Rupasinghe for his significant contributions to the Canadian Food and Beverage sector in terms of both outstanding service and research achievements," said President Dr. Michael Nickerson.  "His research is at the forefront of understanding the relationships between fruit flavonoids and their linkages to human health and is considered an international leader in this area. His dedication to student training and industry growth has only made the sector stronger for years to come."
Dr. Vasantha Rupasinghe is a professor and Killam Chair of Functional Foods and Nutraceuticals at the Department of Plant, Food and Environmental Sciences of Dalhousie University.  Major research contributions to food science and technology include elucidating the mechanism of actions of biologically active compounds present in plant-food especially fruits, vegetables and their proceed products. He has made significant breakthrough discoveries in the interface of food bioactives and their health benefits. For example, cancer chemopreventive, neuroprotective, cardio-protective and anti-inflammatory properties of plant-food flavonoids.
Dr. Rupasinghe's research program, which has attracted over $7M (since 2004) in external funds, has resulted in five patent filings, one license agreement and contributions to the commercialization of over a dozen value-added food products. He has contributed to over 160 peer-reviewed journal articles, 18 book chapters and over 200 abstracts in conference proceedings.
He has trained over 100 highly qualified personnel including M.Sc. and Ph.D. students and post doctoral fellows who are now serving many different professional positions in Canadian Food and Beverage sector. He has been serving as an Adjunct Professor of Food Science related Departments of many Universities worldwide.
As an Expert Advisor within Food Science and Technology, he has served many national committees including the National Food Science Review Panel of Agriculture and Agri-Food Canada (2008-2010), Science Advisory Council of Canadian Horticultural Council (2009-2013) and Advisory Board of the Canadian Food Innovators.
 Congratulations!