News
»
Go to news main
Moving On
Posted by
Stephanie Rogers
on March 29, 2018 in
News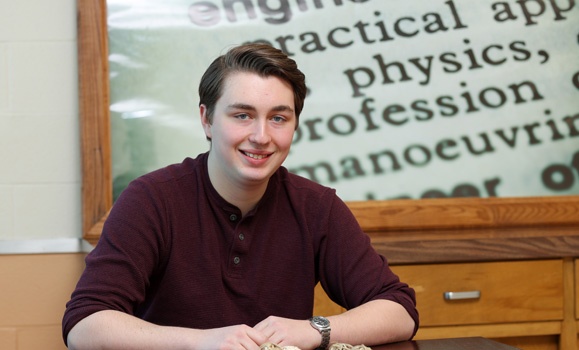 By Emma Geldart

Logan Miller (Class of '18) has always had an interest in mechanics. Growing up in Truro Heights and spending time working on a nearby dairy farm, Logan was always tinkering with engines and fixing things that needed to be fixed. Naturally, Logan followed his heart and pursued a diploma in mechanical engineering at Dalhousie University Faculty of Agriculture. Now finishing up his diploma and set to graduate this May, Logan hasn't looked back.
"Going into high school, engineering was what I had planned to study and since then I've become even more sure that it was what I wanted to do," Logan explains.
 With his sights set on his future, Logan plans to attend Dalhousie University in Halifax to earn his Bachelor of Engineering degree. Faculty of Agriculture students have the option to complete the first two years of their degree at the Truro campus, also earning them an engineering diploma. After the first two years on the smaller and more intimate Dalhousie Agricultural Campus, students have the option to move to the Halifax campus to complete the final two years of their degree. Students also have the option to enroll in the co-op program which gives students an opportunity to complement their studies with three paid work terms, giving invaluable real-world experience. For Logan, the co-op program was what caught his attention.
"Dal's co-op program was certainly the deciding factor," Logan explains. "The hands-on learning and being able to finish my degree with lots of work experience both appeal to me."
Logan is going into the co-op program with an open mind. While he isn't sure where he will end up for his work terms, he is open to testing the waters of different industries and sectors to learn what will be the best fit for him.
"Although I certainly see myself working as a mechanical engineer, I'm not entirely sure what kind of industry I see myself in," Logan admits. "Before I graduate, I plan to dip my fingers into a few different jobs and really figure out where I see myself ending up."
Although he looks forward to moving on and continuing his studies through Dal's Halifax campus, Logan has no regrets about completing his first two years at Dal AC. Many past and present students pride Dal AC on its small class sizes and personable professors- Logan's praise is no different.
"I have a bit of a farm background so that would be what got me in the door," Logan smiles. "What got me to stay was the tight-knit atmosphere. Having a working relationship with professors is great, it feels like they really want to see you succeed. Being a small school, there's also a lot of opportunity. It's very easy to be noticed by a professor, and if there is a project or event you want to pursue, the department will offer resources to help get you there."
Logan certainly made the most of his time at Dal AC. For the past year, he has served as president of the Engineering Student Society. The Engineering Student Society is a resource for engineering students to socialize with other engineering students, and participate in events and competitions. As president, Logan has been responsible for organizing events, coordinating promotional clothing orders, and organizing students for the Atlantic Engineering Competition. Just recently, the Engineering Student Society hosted a social where local engineers came to discuss engineering with students.
"The engineering society is important for engineering students because it acts as gateway to opportunities that students wouldn't typically have access to on their own, like the competitions or other events," explains Logan.
Not only did Logan assist with organizing to send a team from Dal AC to the Atlantic Engineering Competition, Logan was a member of the team himself. In January, Logan and three of his engineering peers travelled to Memorial University in Newfoundland to participate in the Atlantic Engineering Competition, a four day inter-university competition that gives engineering students from across Atlantic Canada an opportunity to demonstrate their knowledge and skills through hands-on competition. Logan and his teammates competed in the Junior Design category where they were required to design and build a wind turbine connected to a water pump that would move water from one bucket to another. With their unique design, the team emerged in the top three and qualified for the Canadian Engineering Competition in Toronto. A similar style competition held in March, the team was required to design and build a cargo handler to move cargo containers on a scale model of the Toronto Harbour. Out of nine teams from all across Canada, Logan's team took first place.
"I was very grateful for the opportunity to attend both of these competitions as a mechanical engineer," Logan gratefully explains. "The school was very supportive of us going and I got to meet a lot of great people."
As his time at Dal AC comes to an end, Logan is ready to move on to his next chapter. While reflecting on his studies at Dal AC, Logan admits he learned that there is a lot more to mechanical engineering than meets the eye.
"Although math and physics are certainly important, a lot of students are surprised by the amount of writing and project work that engineering involves." Logan explains. "Good communication skills are essential and can really make you stand out amongst your peers."