News
»
Go to news main
Improving the mink industry in Canada
Posted by
Stephanie Rogers
on March 22, 2018 in
News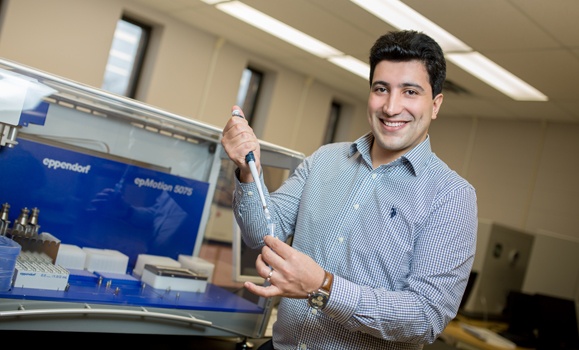 By Emma Geldart

Younes Miar, an Assistant Professor and Industry Research Chair in Mink Genomics at Dalhousie University Faculty of Agriculture, is an accomplished geneticist committed to bettering the mink industry in Canada. With exceptional expertise and a long list of notable accomplishments, Younes' journey began by simply following in the footsteps of his ancestors. Now, after discovering his passion, he is forging his own path and making an impact in the Canadian mink industry.
Born and raised in Tehran, Iran, Younes began studying animal science at the University of Tehran. With nearly 700 years of agriculture background in his family, agricultural studies were a natural choice.
"Except for my father, who is an electrical engineer, all of my ancestors were livestock, rice and wheat producers," Younes says. "I wanted to follow in their footsteps by taking animal science. During my undergrad studies, I became interested in genetics and breeding and how genetic selection has helped livestock producers to improve their profitability."
Younes received a BSc in Animal Science in 2005 and continued his education to receive his MSc in Animal Breeding and Genetics from the University of Tehran in 2008. During his graduate studies, Younes worked with new technologies of genomics and bioinformatics and their applications in livestock breeding programs.
"I continued on to receive my PhD in Animal Genomics at the University of Alberta where I was working on genomic selection for improving pork quality and carcass traits in pig breeding programs," Younes explains. "I then worked as a Postdoctoral Fellow in Statistical Genomics at the University of Guelph on a variety of projects involving the analysis of large-scale genomic data."
In July 2016, Younes began his position at Dalhousie University Faculty of Agriculture as Assistant Professor and Industry Research Chair in Mink Genomics. Using his extensive expertise in animal breeding and genomics, Younes is now developing an advanced and innovative research program that applies genetics and genomics to promote mink selection and management. His research will also enhance the quality of breeding stock and improve the environmental sustainability of the industry.
"I always wanted the chance to dig deeper in the animal's genome, which is why I'm so excited about my current position at Dalhousie University," Younes says. "I'll have the chance to work on a unique species of mink that has not been studied a lot before, in terms of genetics and genomics, and help the mink industry."
The mink industry in Canada is experiencing difficult times. Several contributing factors, such as high feed prices, declining price of fur, and prevalence of diseases, are making it difficult for mink farmers to maintain their business. Younes aims to find a solution to these issues through his research. Specifically, he is looking at the genetics of mink, collecting and analyzing the genetic codes, to better understand the biology underlying economically important traits in mink.
Younes' research consists of field work to collect phenotypic data - data that relates to the observable characteristics of mink in relation to the genetic codes. He then works in the molecular genetics laboratory to produce genomic information, and also spends time in a computational lab to analyze large genomic and phenotypic data sets using high performance computer systems.
Once his research progresses, the mink industry will have access to the necessary tools and knowledge to implement genetic and genomic selection in their breeding programs. According to Younes, these tools will enable mink breeders to incorporate economic traits as breeding objectives in their routine genetic evaluation systems.
"The overall goal of my research program is to help improve the current position of the Canadian mink industry," Younes says. "The industry will be revolutionized if genetic/genomic selection is successful in a major way. Farmers will save money, while the international competitiveness of Canada's mink industry will increase. This will help improve the overall performance of the Canadian mink industry."
Although Younes has only been in his position as Industry Research Chair at Dal AC for a little over a year and a half, he has reached a major milestone in his research already. As Industry Research Chair, he is responsible for developing an advanced and innovative research program in mink genetics and genomics. While a program of this nature takes time to develop, Younes has successfully secured industry partnership for his program. The Mink Research Partnership Grant has been his biggest accomplishment during his time at Dal AC so far.
While his teaching and research keep him busy, Younes loves every part of his job.
"I love working with and teaching students that are thirsty to learn, working with colleagues that are always there to help you, researching to help farmers overcome their challenges, and proudly serving the university and the industry," Younes says with a smile.