News
»
Go to news main
Dalhousie researchers receive more than $6 million from Research Nova Scotia Trust for Ocean Science and Technology projects.
Posted by
Stephanie Rogers
on October 27, 2017 in
News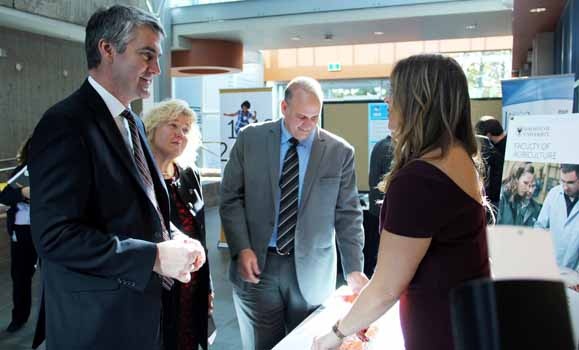 Dalhousie University was pleased to welcome The Honourable Stephen McNeil, Premier of Nova Scotia, and The Honourable Labi Kousoulis, Minister of Labour and Advanced Education, to campus this week to announce a more than $6 million investment in six Ocean Science and Technology projects that involve world-class researchers from Dalhousie University.
The funding, which is part of the Research Nova Scotia Trust, will support important ocean research happening at Dalhousie that ranges from the development of autonomous marine observation systems and seismic imaging, to tidal energy and improved nutrition in aquaculture.
Established in March 2017, the Research Nova Scotia Trust invests in research projects put forward by the province's universities and the Nova Scotia Community College in the areas of ocean and science technology, aerospace and defence, clean technology, health and wellness, resource sectors and social innovation. This is the first step toward the creation of Research Nova Scotia and the Research Opportunities Fund. Any residual funds left in the trust will transfer to the Research Opportunities Fund once it is established.
Congratulations to Dr. Stefanie Colombo at the Faculty of Agriculture

Finfish and shellfish tank systems to improve nutrition in aquaculture
Dr. Stefanie Colombo, Assistant Professor, Faculty of Agriculture
Dr. Stefanie Colombo's project will discover innovative ways to improve nutrition in aquaculture and contribute toward improved, healthier, environmentally sustainable and economically viable farmed seafood. In order to effectively and creatively design innovations in nutrition, an efficiently designed, multi-purpose, and reliable tank system will be created, which will be capable of rearing different species and life stages, and treatments for robust analysis.
Read the complete Dal News article