News
»
Go to news main
Meet Today's Young Farmer ‑ Alumnus Harris Bakker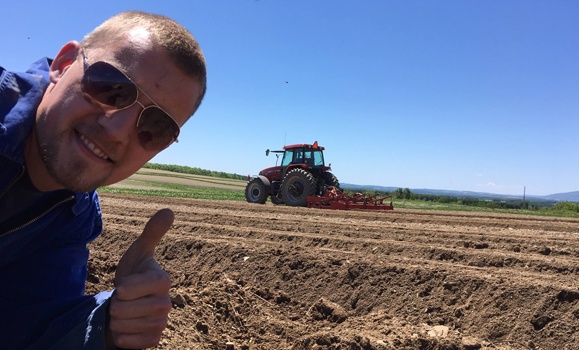 A major goal for most farmers is to grow their operation so they can stay competitive in their market plus keep making a living doing what they love. Potato farmer Harris Bakker of Killoween, New Brunswick, knows first hand what it's like to grow - and grow quickly.
"In 2013, our neighbour sold. We were fortunate enough to be able to buy that farm. We went from 300 acres to a thousand acres. It was a big jump."
Born and raised in the Netherlands, Harris farms full time with his parents, who immigrated to Canada with the family in 2000. They started out with a small farm near Florenceville, the same place Wallace and Harrison McCain opened their first production facility back in 1957. Harris and his family grow russet burbank potatoes for McCain Foods.
"We went from growing about 150 acres of potatoes to around 500 acres (when the neighbour's farm was purchased). It was a challenge, especially for me because I'll probably be holding that debt for awhile!" he laughs.
Like any family who farms together, the Bakkers all have their specific areas of expertise.
"We play to our strengths. Mom runs the books and the potato house crew, where we store the potatoes, in the spring and fall. Dad is always on the road, servicing equipment and tractors and helping mom out. And I'm usually in the tractor."
Together with his fiancé, Sam Fanning, also an alumnus- who works for the Bank of Montreal - Harris lives on the new farm, which "is about a kilometer the way the eagle flies from my mom and dad's house."
Country living suits this young farmer; he can't see himself doing anything or living anywhere else. "It's the lifestyle that I just love. I can't get enough of it," says Harris. "I like being my own boss; getting up in the morning and doing what I think needs to get done. Well, I discuss it with my dad first, of course. (laughs) I just like being a part of agriculture."
As a young farmer in New Brunswick, Harris recognizes there is a lot of work to do when it comes to promoting the industry, both by giving consumers the information they need to make informed decisions and by getting more people involved.
"People think that every sprayer has some skull and crossbones on it. That's just not true at all; I'd really like to get that message across to people, that farmers are stewards of the environment. It's important to keep agriculture alive, even in the cities, just to get the knowledge to the next generation. That's a major issue here, that there aren't enough successors. So, we really need to get people involved in agriculture."
Spreading the good word of agriculture is a little easier when you're part of organizations like the Canadian Young Farmers Forum (CYFF). For Harris, it's the network of farmers his age that he really enjoys having access to.
"Around here, most potato farmers have a very traditional way of thinking. I like being able to talk to farmers my age. With the CYFF, there are so many young people in the same boat. You can talk to them about all the stuff you're thinking of doing and they'll tell you what they think and then talk about what they're doing. I met a few potato farmers from PEI and we stay in touch through Facebook. It's great to have those connections."
Being part of Canadian agriculture - with technology and environmental sustainability at top of mind - makes Harris very proud.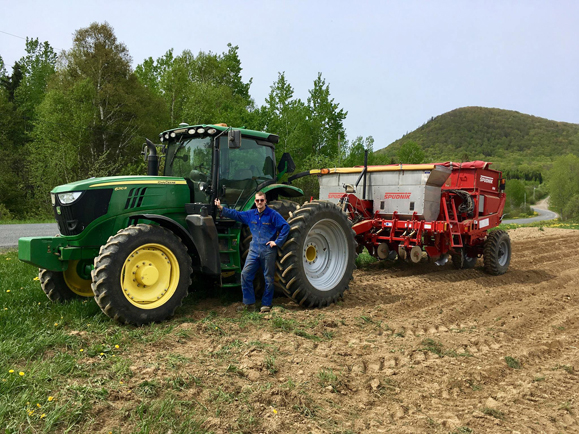 "When people think of a farmer, they think of a guy in coveralls with a pitchfork. I'm not that. I'm behind screens all the time, just inside a tractor. Feeding the world and a growing population needs technology and innovation. Being part of farming that's sustainable and has the environment in mind is something to be proud of."
Reprinted with permission from Canadian Young Farmers Forum