News
»
Go to news main
High School Student seizes second place finish in Cultiv8's Pitch Ag
Posted by
Stephanie Rogers
on May 9, 2017 in
News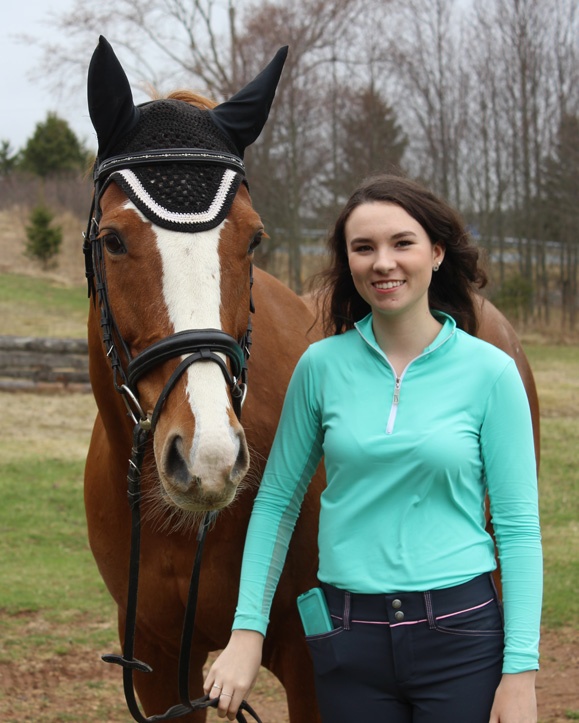 By Emma Geldart

Joecy Peters is an aspiring entrepreneur with a knack for innovation and problem solving. She recently pitched her business idea, Equine Acu-ezze, and earned second place in Cultiv8's Pitch Ag competition. Competing individually amongst 13 teams of 30 Dal AC students, Joecy was the only high school student to compete in the competition.  
From Masstown, NS, Joecy is a grade 11 student at Cobequid Educational Centre (CEC). She is enrolled in the International Baccalaureate (IB) Program, a pre-university program designed to academically challenge students and give students the intellectual, social, and critical perspective that will allow them to flourish beyond high school. With an interest in entrepreneurship, Joecy learned about Culitv8 on Dalhousie's Agricultural Campus through her IB coordinator.
Cultiv8 is a collaborative program offered to Dalhousie and Acadia students offering students access to industry mentors and entrepreneurial resources. It's a student space where ideas are explored, entrepreneurial skills are developed and opportunities are realized. Students are given the opportunity to explore entrepreneurship through programs, mentoring, interactive workshops, and test their skills through pitching competitions. Jolene MacEachern, Cultiv8 coordinator, explains that Cultiv8 is trying to expand to reach out to more high schools.
"We need to change the culture in Nova Scotia," Jolene says. "We need to get more youth interested in exploring ideas and taking action to develop opportunities. There is an understanding that this work needs to begin as early as possible so both Dal AC's Dean and the Department of Labour and Advanced Education fully encourage high school participation in the sandbox program."
Although there is no official Cultiv8 Club at the high school yet, high school students are welcome and encouraged to attend Cultiv8 meetings on the Agricultural Campus. Joecy is one of two CEC students to attend regular Cultiv8 meetings.
"I haven't always been interested in entrepreneurship but I've been considering different career paths," Joecy explains. "After going to a few Cultiv8 meetings, I became more and more interested. I wanted to get experience building my own business and presenting my idea to others."
Joecy created a product called Equine Acu-ezze with the guidance of Cultiv8's resources. Equine Acu-ezze designs saddle pads for horses to relieve pain in the horses back. An experienced equestrian herself, the idea for Equine Acu-ezze came to Joecy while she was looking to solve an issue in her own horse's back.
"One of my horses has a disease called kissing spine," Joecy explains. "This is when the vertebrae in his back begin to impinge on each other. I was looking for something that would be able to benefit him and lots of other horses."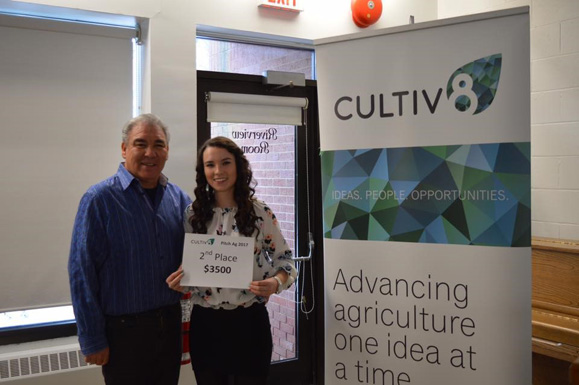 To develop her idea for Equine Acu-ezze, Joecy explored a number of avenues and extensively researched the problem. She also researched the business model canvas, and talked to potential customers, trainers, fellow riders, and massage therapists to get a sense of if her product would be successful.
Once her idea was perfected, Joecy decided to enter Pitch Ag, Cultiv8's year-end pitch competition. Joecy credits her second place finish to Cultiv8 for helping her to prepare for what the judges were looking for.
"Cultiv8 really helped me prepare for Pitch Ag," Joecy explains. "I was able to hear about the business model canvas, learn from business owners on how to run a business, and hear feedback on pitch's at the pitch training sessions. I was really excited to pitch at Pitch Ag. I didn't really think about the fact that my competitors were university students."
Joecy plans to continue to move forward with Equine Acu-ezze. She would like to consult with more experts and further develop the product, eventually creating a prototype to test her idea. She plans to stay actively involved with Cultiv8 and to enter more pitch competitions to get feedback on her ideas.
While Joecy may be a regular on the Dal Ag Campus, she is no stranger her own high school either. She is actively involved with Student Council, French club, Big Brothers Big Sisters, Spirit Committee, Communications Committee and shared reading. In addition to these extracurricular activities and her IB studies, Joecy is an experienced equestrian and an active member of Opportunity Pony Club, a branch of the Canadian Pony Club.
Canadian Pony Club is a member-based association that teaches youth, ages 6-25, about all aspects of riding and caring for horses and ponies. Through Pony Club, Joecy has competed at the national equestrian level numerous times. She has been a member of the national quiz team, national rally team twice, and has attended both national dressage and show jumping competitions. In addition, Joecy will represent Canada this year at the Inter Pacific Exchange held in North Carolina, USA.
The Inter Pacific Exchange (IPE) is a biennial event involving Pony Club Teams from the countries in the Pacific Basin, typically participating countries include Canada, Australia, Hong Kong, New Zealand, and USA. Teams consist of four riders who compete in a Nations Cup show jumping competition. Typical equestrian competition sees riders ride their own horses in competition but in the IPE, the host country must provide horses for teams to compete on. Although teams are there to compete, competition is not the primary objective of the IPE. A series of non-riding functions are organized to bring together riders from different nations to share ideas, interests, and cultures.
"I'm really looking forward to meeting my team members from the Canadian team as well as riders from other countries," Joecy explains. "I am also looking forward to showing and seeing equestrian centres in the United States."
While Joecy continues to pursue her interest in entrepreneurship, upon graduation from high school she plans to study kinesiology as an undergrad before going to chiropractic school. While she has no definite plans for Equine Acu-ezze, Joecy will continue to pursue her idea. Although plans and ideas can change, one thing will always remain the same for Joecy- her passion for horses and her keen talent for innovation and solving any problems that come her way.