Dr. Qamar Zaman has never strayed too far from what he is truly passionate about. From his extensive research in precision agriculture to his integral role as researcher and professor at the Dalhousie Agricultural Campus, Dr. Qamar Zaman loves what he does.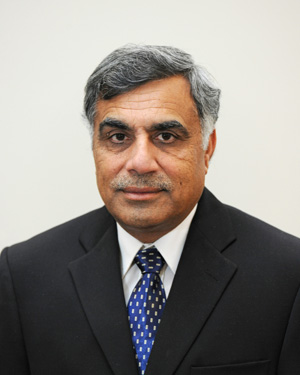 An associate professor and precision agriculture research chair at the Dalhousie Agriculture Campus, Dr. Zaman is a huge contributor to agriculture research. He has over 25 years of experience in teaching, research and extension from various national and international universities and organizations, including the University of Agriculture (Pakistan), the University of Newcastle upon Tyne (England), the University of Florida (USA), Tokyo University of Agriculture and Technology (Japan), and Dalhousie University. With his passion and dedication to the agriculture industry, Dr. Zaman is a pioneer in precision agriculture research.            
Precision agriculture is a concept of farming that accounts for the variability in crops. It responds to soil variation, yield variation, and field variation, among many other things. As one of the pioneers in precision agriculture, Dr. Zaman's research is focused on precision agriculture in wild blueberries. He has contributed to the research on increasing the berry yield and developing new ways for growers to reduce the use of agrochemicals and protect the environment.
"Precision agriculture technologies can also decrease the cost of production," Dr. Zaman explains. "We just have to have the proper equipment, machinery that is equipped with controllers and sensors."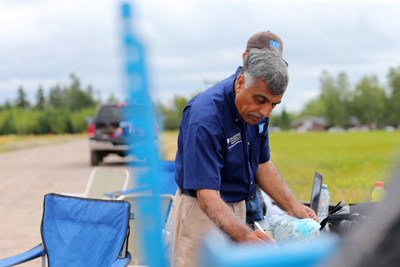 Dr. Zaman explains that the variability in wild blueberry fields causes different plants to have different needs. For example, wild blueberries are naturally grown, so some fields have bare patches. When fertilizing, growers are currently applying a uniform amount of fertilizer on the field. By using this method, the growers are also wasting fertilizer by unnecessarily fertilizing bare patches and any weeds that may be in the field. Through precision agriculture, growers can take these variability's into account, save money and increase their berry yield.
"Newly developed fields have 20-50% bare patches," Dr. Zaman explains. "There is no need to fertilize there because if you apply fertilizer, you will promote weed growth which increases costs."
Dr. Zaman and his team of researchers have come up with new technologies to help improve and maintain the wild blueberry industry. They have about eight projects, either completed or in progress but their most notable technology is the automated prototype variable rate (VR) sprayer for spot application of agrochemicals.
"I have a patent on a variability sprayer," Dr. Zaman says. "We usually hold demonstrations at field days to demonstrate our technologies and then we have Wild Blueberry Producer's Association meetings. We present work to the industry there as well."
Consisting of high tech cameras and computerized controllers, the VR sprayer is a system that automatically senses weed, plants or bare patches in the wild blueberry fields. The technology activates nozzles when weeds or plants are detected and will spray herbicide, fungicide or insecticide in the specific section where the target has been detected. Currently in its final phases, Dr. Zaman and his team have worked very hard over the past seven years to make the VR sprayer as cost efficient as possible for the industry.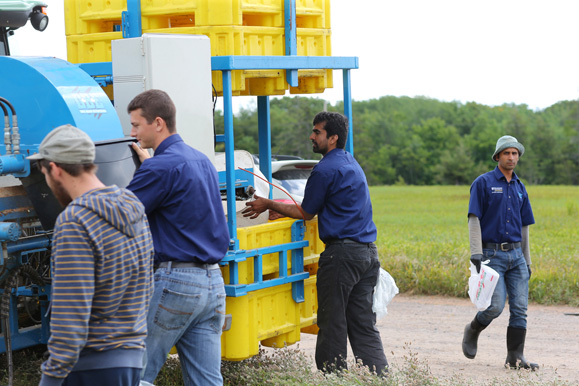 "We tried to test some sensors and controllers in 2007 and 2008," Dr. Zaman explains. "Some technologies are available commercially but they are very expensive. We wanted to be as cost effective and user friendly as possible so that growers could afford it."
After a number of prototypes and countless hours of testing, the VR sprayer currently consists of a 45 foot commercial sprayer boom attached to a tractor with four cameras attached to the boom. Within milliseconds, the cameras take images, process them and send them to the controller. The controller then activates the nozzles if a target is detected. Inside the tractor is a touch screen computer for the operator to use. The VR sprayer reduces the impact on the environment by reducing the use of herbicides by 60-80% and fungicides by 20-40%. Dr. Zaman and his team tested over 100 fields in two years and now the VR sprayer is ready to be manufactured.
"The sprayer is now available and we are looking for some manufacturers," Dr. Zaman explains. "The growers are very excited to have this kind of technology available now."
With the success of the VR sprayer, Dr. Zaman is looking to expand his research past the wild blueberry industry. Variability in fields can be found in any agriculture crop and Dr. Zaman explains that in the future, he plans to develop a system that can be used on more vegetables.
"Our funding was for wild blueberries," Dr. Zaman explains. "It worked very well so next we will look at more applications that can be applied to other fruits and vegetables."
Dr. Zaman's research led him to be awarded the Glen Downing Award in 2014. Presented annually by the Canadian Society for Bioengineering (CSBE), the Glenn Downing Award is presented to a CSBE member in recognition of their outstanding teaching, research and extension in machinery systems. The recipient is selected from nominations and must have been a member of the CSBE for at least five years. Last year, Dr. Zaman was nominated and selected as the 2014 recipient. Based on his achievements, Dr. Zaman was presented the award at the International Joint American Society of Agricultural and Biological Engineers and Canadian Society for Bioengineering Annual Meeting in Montreal last July.
From his extensive research in the agriculture industry to receiving the Glenn Downing Award, Dr. Zaman has not only improved the wild blueberry industry in Nova Scotia, but he has contributed greatly to all agricultural research. Through his past, current and future initiatives, it is safe to say that Dr. Qamar Zaman has created a lasting impact in agriculture research that can be applied not only locally, but all over the world.