By Emma Geldart
For nearly 100 graduating Dal AC students, last night was one of the proudest and most exciting moments of their lives. Each student waited anxiously for their name to be called to the podium where they received their long-anticipated Barley ring. It's after receiving their Barley ring that one chapter of their life closes. For all, the Barley Party is a bitter-sweet moment.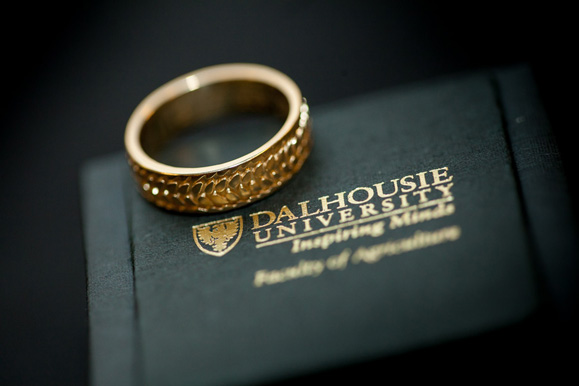 Unveiled five years ago, the Barley ring is the official graduation ring of the Agricultural Campus. Since its launch in 2010, it has become a highly recognized symbol of the Faculty of Agriculture.  Now with nearly 600 rings worn by alumni around the world, the Barley ring is a proud symbol of the Faculty of Agriculture and the Dalhousie Agricultural Campus. The textured design features a pattern of barley around the band of the rings and each ring is handmade my local jeweler, Donna Hiebert. This year, over one hundred rings were presented to the Class of '15- the biggest turnout to date.
"When we developed the Barley ring, we wanted to create a symbol to celebrate our alumni community," says Colette Wyllie, Director, Faculty of Agriculture Alumni Association, who also played a major role in developing the Barley Ring as a student. "We wanted it to be as unique as our institution and our graduates. But mostly, we wanted something that alumni would be proud to wear on their fingers. Five years later, I think that's definitely the case. It's exciting to see the uptake grow each year and to know that graduates are eager to be a part of the ring family."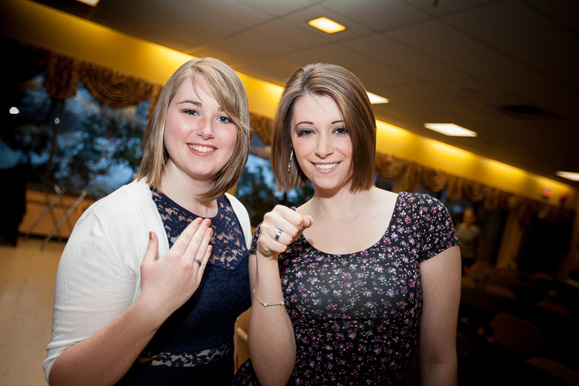 The Barley Party is an annual celebration for students who have purchased a graduation ring. An evening event held in Jenkins Hall on campus, students enjoyed a buffet-style meal and were joined by a few special guests. Students received their rings and were welcomed to the Agriculture Alumni Association by Jean Lynds, Chair and Dr. David Gray, Dean, Faculty of Agriculture. For many students, the Barley Party is more prominent then their actual graduation ceremony.
"Receiving a Barley ring at the ceremony is a big moment for grads," says Robyn McCallum, president of Dalhousie Agricultural Students' Association. "It's an official welcome to a larger community- the Alumni Association.  It's a huge deal to realize after so much hard work, that you are now part of the strong, proud AC family."
As part of the Agricultural Campus' ring tradition, the Alumni Association allows for one to two honorary rings to be presented each year. Honorary rings are awarded to individuals who do not meet the criteria to be eligible for a Barley ring but who are extremely deserving of the honour. These individuals are ambassadors and supporters of the institution. They have made outstanding contributions to the Agricultural Campus community and truly depict the characteristics of Dal AC alumni.
This year, both Julie Andrews, Chartwells Food Services Manager and Victor MacKinnon, Head Chef, were selected as honorary ring recipients. Their passion and dedication to the campus, students, staff, faculty and guests made them more than deserving of the award. Having both been a part of the campus and working together for many years, Victor and Julie go above and beyond their job descriptions. While they are both quick to defer the credit to their incredible Chartwells team, the team would not run as well as it does without their leadership.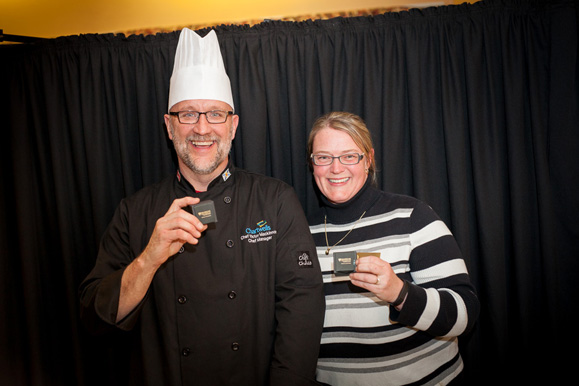 Chef Victor and Julie Andrews
Student testimonials describe Julie and Victor as friendly, dedicated and a wonderful asset to campus.
They are always trying to accommodate the needs of the students. In fact, in 2004, during infamous snowstorm White Juan, Victor walked to campus from his home in Salmon River to make sure the students on campus had a hot meal. In 2011 Julie travelled to China to learn more about Chinese culture and cuisine to better accommodate the nutritional preferences of international students on campus. It is this type of dedication that is deserving of the prestigious Barley ring.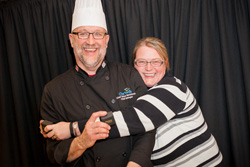 "This past summer I had the opportunity to work closely with Julie in planning major events and she was so accommodating, just as she is with all students here on campus," says Robyn McCallum. "Chef Victor is the type of person who, no matter the time of day, is always a breath of fresh air. He can turn a bad morning into a brighter one. Both Julie and Victor are an asset to campus and it would not be the same without them."
Along with the two honorary recipients, another special guest was in attendance at this year's Barley Party. Brent Pearson, Class of '91, travelled from Glassville, New Brunswick to attend. Not only did Brent get to see his son receive his Barley ring, but he received his own Barley ring alongside his son. Brent received an engineering diploma from NSAC in 1991 and like his father, Dallas Pearson will receive his engineering diploma in May. For the Pearson's the Barley Party was extra special.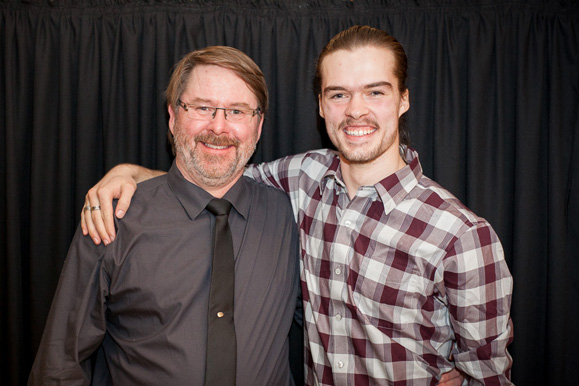 Brent and Dallas Pearson

"I first heard about the Barley ring during its introduction in 2010," Brent explains. "To me the Barley ring is symbolic of many things- a higher education in a close knit university, friendship and hard work. To receive the ring alongside of our eldest son Dallas was a special event for me. It was a proud moment for a Dad. I am very happy that we are able to share this common bond.  In actuality, I consider it an honor."
Dallas was equally as proud to receive his ring alongside his father.
"The Barley ring is an exciting checkpoint in my education and it's pretty cool to know my dad graduated from the same program," Dallas says. "To me the Barley ring represents hard work and unity and I will always wear it with pride. This year's ceremony was particularly special for me as my dad also received his ring. I am happy to be following his footsteps through engineering and I consider it an honor to accept our rings together."
For some, the Barley Party is more exciting than graduation but for all, the Barley Party marks the end of one chapter and the beginning of another. As graduates return to their seats after receiving their ring, there are two noticeable differences in the room- the beaming smile of every student and a silver or gold strand of barley wrapped around fingers all around the room.