News
»
Go to news main
Students attend Canadian Produce Marketing Association Convention
Posted by
stephanie rogers
on April 22, 2014 in
News
The Canadian Produce Marketing Association (CPMA) hosted a convention and trade show in Vancouver April 2 to 4, 2014. This convention and trade show is Canada's largest event dedicated to the fruit and vegetable industry with over 3000 participants from all segments of the produce supply chain. Produce from Canada and from around the world was showcased.
Brittany Bouchie, Rebecca O'Connell, Brianna Sinclair and Ryan Pedersen were selected by the Business & Social Sciences Department to attend this exceptional learning and networking opportunity funded by CPMA. The students were accompanied by Professor Chris Hartt.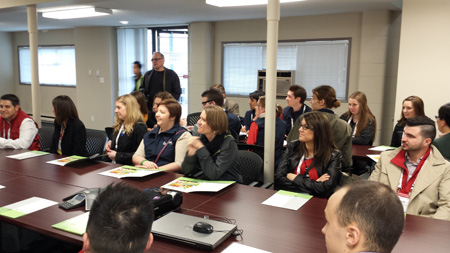 Dr. Hartt and the four Dal-AC students visited "Fresh Direct" a major player in the produce distribution business and the group which included students and faculty from Guelph, Kwantlen and McGill as well as Dalhousie also visited the Customs Installation at the border with the United States (fourth largest truck volume in Canada). 
These excursions added to the excitement of meeting, networking and seeing the products of the hundreds of companies participating in the conference and trade show. 
"Having the opportunity to travel and participate in this industry event was an incredible experience to say the least," explained Rebecca O'Connell.  "Not only did I make new friends, but I made professional connections with successful business people from companies around the world. We were immersed into the professional atmosphere and encouraged to make the most of it through networking."
"As students, we were certainly a minority group at the event, however we were included and respected in a way that made the industry an enticing career choice. My perspective on the produce industry has been broadened and redefined as I've learned that it encompasses such a large number of different players. Having these strong connections based from such a prestigious event, will help me in the future with contacting employers about career options."
"The Career Pathways Program is one that should be taken advantage of. To be 1 of 12 students, from 1 of 3 universities in Canada selected for this opportunity, is a huge achievement that I hope future students will have the chance to benefit from."