The 2013 Faculty Award for Teaching Excellence was presented to Dr. Jin Yue during the inaugural Tribute Awards Ceremony on Friday, May 3 as part of Convocation celebrations.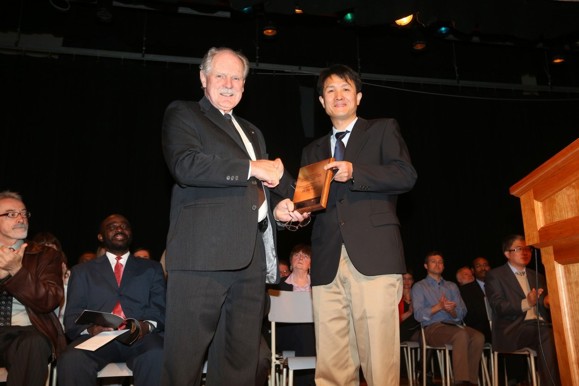 Dr. Yue has been teaching on our campus since January 2009, but in that short time he has had a significant impact on student learning in our math program.  Not only does he teach a number of math courses, but he plays a key role in organizing and staffing the Math and Physics Help Centre.   With his assistance, the Help Centre has expanded its hours and become a vibrant and active space for students to learn.  He takes a hands-on approach to instruction, teaching his entire tutorial sections himself and using multiple methods and examples to help students with different learning styles master the material.  He has both expanded the material covered in the calculus courses and improved student performance.

Dr. Yue is passionate about the material he teaches and incorporates many innovative teaching methods, constantly engaging his students. He is a champion for student success and cheers both large and small victories for those in his classroom and he is always concerned with improving his classes to satisfy his pupils' needs.

The 2013 Achievement in Internationalization Award waspresented to Dr. Tess Astatkie.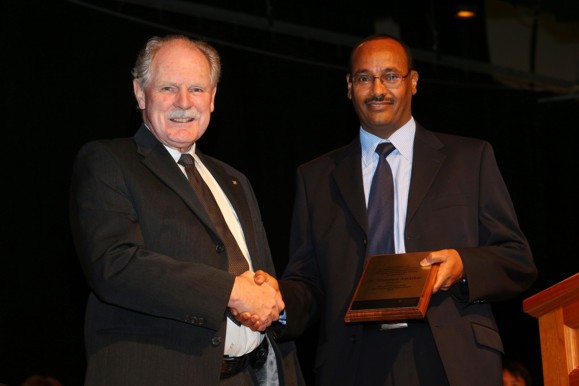 Dr. Astatkie has contributed to a number of international initiatives over the years, both as a representative of our Faculty in other countries and hosting and mentoring international colleagues on our own campus.  His activities have had an impact on research, teaching and science and agricultural education around the world.
Some of Dr. Astatkie's most significant contributions come from his role as the director of the "Agricultural Sustainability" and the "Post-harvest Management to Improve Livelihoods in Ethiopia" projects.  These projects involved research activities both here and in Ethiopia, sharing of technical expertise with colleagues in Ethiopia, training and support for Ethiopian scholars and internship opportunities for several undergraduate students. 
Dr. Astatkie maintains collaborative relationships with researchers around the world, resulting in numerous co-authored peer-reviewed articles and conference presentations.  He also plays a personal role in internationalizing our campus. 


Congratulations are extended to both of these worthy candidates.