News
»
Go to news main
Social Change Artifacts in our Midst
Posted by
Stephanie Rogers
on November 2, 2012 in
News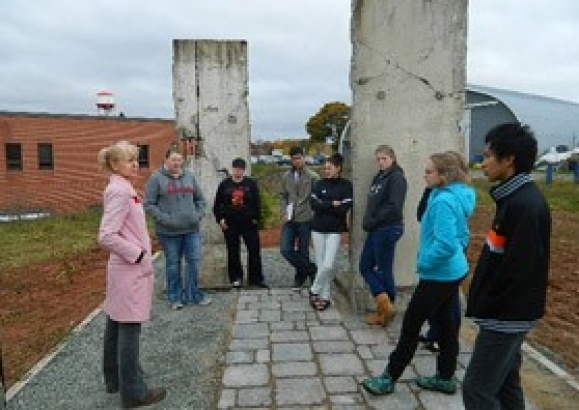 For decades the world was myriad in the costly Cold War.  Each side was looking for enemies and each side very good at making enemies and making people afraid.
Are we into a new era now? Well if we graduate more students who are skilled in their area of interests and passionate about their work along with being informed about history and ready to take up leadership roles, then maybe our future could be a lot brighter and 'warmer'! 
The Truro Campus houses some wonderful assets and key historical artifacts. Students in the Leadership Development and Social Action class took a walk to and talked about the significance of these concrete structures along the Cobequid Trail.  These are part of the Berlin Wall that was constructed in 1961 and retained and guarded until 1989. These pieces symbolize the division of families, the hostilities between the east and the west, along with those who died in seeking their freedom. The fact that the wall has come tumbling down also is symbolic of human evolution. With tenacious local and international leadership the call for the removal of the wall became a reality. 
The structures are worth seeing in the garden next to the Salmon River on the Truro Campus.  They remind us of human capacity to be divisive, antagonist, hostile and even brutal. They also can stand for our own development as leaders and citizens responsible for co-creating a greater sense of shared responsibility for seeking truth, freedom, creativity and compassion. This is no simple walk in the woods.