News
»
Go to news main
Ocean Retreat 2018: Linking Students & Post‑Docs to Collaborate on Ocean Research
Posted by
Christoph Renkl
on May 23, 2018 in
News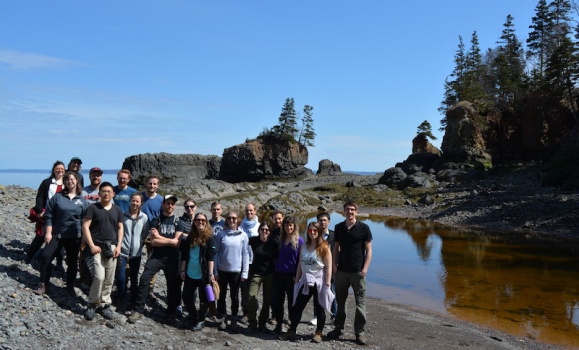 Ocean Retreat 2018
May 5-6, 2018 at Brigadoon Village, South Alton, NS
In order to promote interdisciplinary collaboration, the Dalhousie Oceanography Student Association (DOSA) organized a scientific retreat, funded by CERC.OCEAN. The main goal of this event was to bring together graduate students and post-docs with various ocean-related backgrounds to showcase the importance of collaborative approaches to scientific problems and learn from each other. This was done through a series of parallel workshops on statistical and computational methods, interaction with climate skeptics as well as science communication and dissemination of research through social media.
As further part of the program, small groups with diverse backgrounds designed interdisciplinary research projects focusing on the Bay of Fundy, which is a local hotspot for oceanographic research. The participants were asked to outline proposals that aimed to identify the objectives and the involved parties of the projects. A common thread among all projects was the use of tidal energy by including knowledge and interests of local communities and fishermen. The proposed projects can serve as a foundation for future interdisciplinary ocean-related research at Dalhousie University.
On the second day, we ventured out on a field trip to the Bay of Fundy in Baxters Harbour. During low tide, we walked on the seafloor and explored the shoreline. This was a good opportunity to strengthen new contacts, which have the potential for future collaborations to address ocean research with an interdisciplinary approach.