News
»
Go to news main
Cruise Report: MORI‑2 cruise
Posted by
Sanjana Varanasi, Kitty Kam
on September 16, 2022 in
News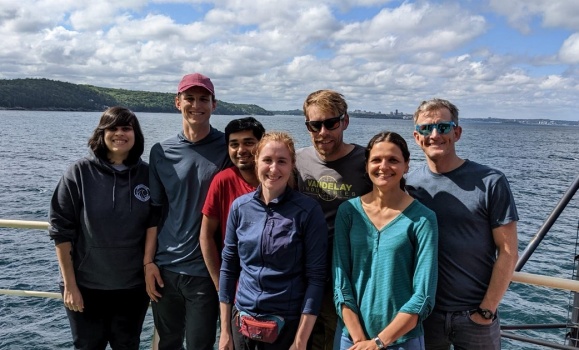 Date: Aug 08 - 18, 2022
Location: Halifax  ↔  The Scotian Shelf

            It doesn't happen everyday that you get the chance to join a 2-weeks research cruise, it's even rarer when you came across it unexpectedly and ended up to be your first-time adventure. In August, CERC.OCEAN undergraduate student Sanjana Varanasi participated in the 2nd MORI cruise of 2022 season (MORI-2) onboard Atlantic Condor. For Sanjana, it was a once-in-a-lifetime opportunity when she heard about it. With only a few days notice, she decided to seize the opportunity, packed her bags, and joined the science team of the MORI-2 cruise to embark the first research cruise of her life. Unsure about what to expect from this journey, Sanjana kept an open mind to new challenges with a positive attitude and see them as learning opportunities:
My very first research cruise was more amazing than I expected. It was a great opportunity to learn from the scientists on board and get firsthand field experience.
           The MORI-2 cruise focused on the studies of deep-sea habitats, such as deep-water coral, sponge and seep, along the Northwest Atlantic shelf and slope. The main purpose of this cruise is to observe the change of deep-sea habitats in the regions after becoming as Marine Protected Areas (MPA), by repeating the transects using remotely operated vehicles (ROV) that were last done in 2007.
            The rich diversity of deep-sea ecosystem observed at the MPAs was a unforgettable experience for the first-time sea farer, "I was really surprised by the rich habitats that I observed through the ROV transects in the marine protected areas," Sanjana said. On top of ROV transects, the MORI-2 team were fortunate to locate the experimental arrays that were placed back in 2007, where they were able to collect samples of cold-water corals and sponges, as well as sediment samples from sediment cores (controlled by the ROV!) and gravity cores for biological and biogeochemical studies.
            Overall, this cruise was a success for MORI-2 scientific team, and certainly a memorable summer for Sanjana. This trip has inspired her future research focus in ocean science:
I hope that my future research in oceanography will contribute to restoring all marine environments back to how it once was.
In addition to the cruise success, her gratitude towards ship crews of the Atlantic Condor is well-received by the ship owner Atlantic Towing Ltd, which is being shared on a LinkedIn post by the company.