News
»
Go to news main
Marine Robots – Back in Action at OHMSETT
Posted by
Teala Chambers
on October 3, 2022 in
News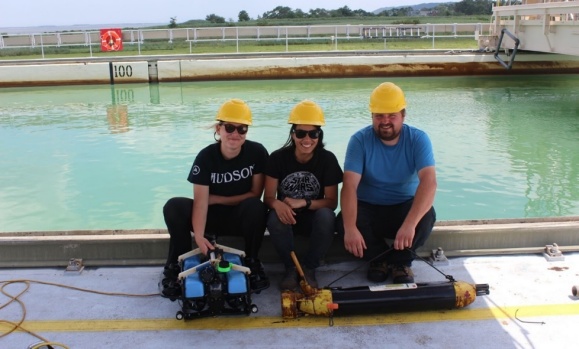 This past July, the CERC.OCEAN team put their underwater robots to the test for oil spill experiments at OHMSETT – The National Oil Spill Response & Renewable Energy Test Facility in Leonardo, New Jersey. The team was invited to the facility by Dr. Michel Boufadel from the New Jersey Institute of Technology (NJIT). This research was funded by the Multi-Partner Research Initiative (MPRI) led by Dr. Ken Lee, National Senior Scientific Advisor of the Fisheries and Oceans Canada.
            Returning to OHMSETT (read about our previous experience here) with a remotely operated vehicle (ROV) and an autonomous underwater vehicle (AUV), the goal was to test these underwater vehicles in conditions that simulate real world conditions. OHMSETT is the largest outdoor saltwater wave and tow tank facility in North America, which its tank is just over four times longer than a standard Olympic-size swimming pool. It is the only facility where full-scale oil spill response equipment testing, research, and training can be conducted in a marine environment with oil under controlled environmental conditions.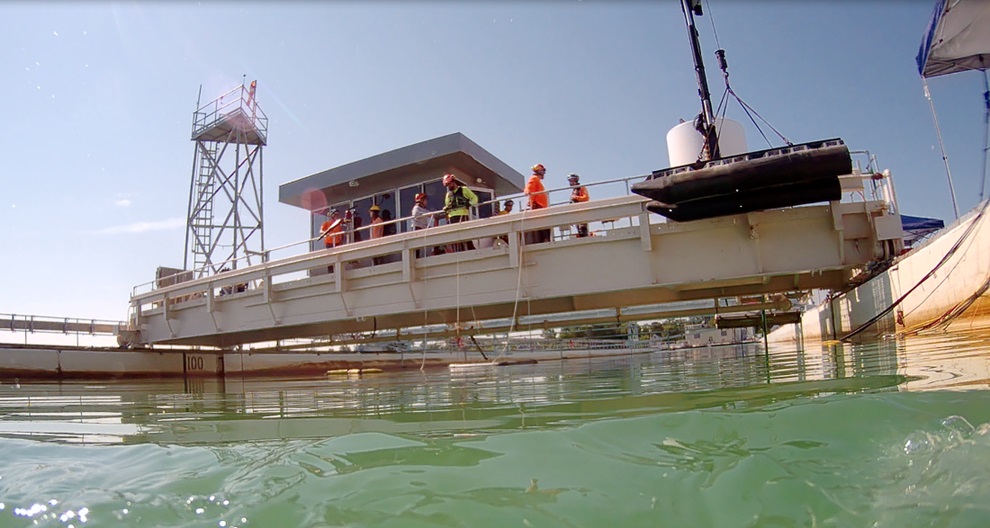 Photo of the bridge deck at the OHMSETT, captured by the ROV.
            Response to oil spills requires rapid update of information about spill location, size and extent, rate and direction of oil movement, and environmental conditions to support models of spreading. The research project, led by PhD student Allison Chua, aims to develop a rapidly deployable system of underwater robotic vehicles with sensors, profiling systems, and samplers to inform oil spill decision-making and response. For this research trip, the ROV collected temperature, depth, and sonar data, GPS information, and real-time high-definition video footage in both 1080p and 4k resolution modes. The AUV, a modified ecoSUBm5 platform (ecoSUB Robotics/Planet Ocean), was equipped with a crude oil sensor (AML/Turner Cyclops 7F-O), a turbidity sensor (AML/Turner cyclops 7F-T) and recorded measurements with a timestamp and three-dimensional co-ordinates (latitude, longitude, depth). Early analysis shows encouraging results for oil spill detection. The team is looking forward to sharing their findings at the International Oil Spill Science Conference in Halifax this October.
            The team extends a sincere thank you to Dr. Boufadel and his research team at NJIT, particularly PhD student Ruixue Liu for her excellent coordination and support, as well as the staff at OHMSETT, and the BSEE and ExxonMobil representatives that were present for the experiments. We would also like to thank Dr. Ken Lee (DFO) for his continued support of our work within the MPRI project.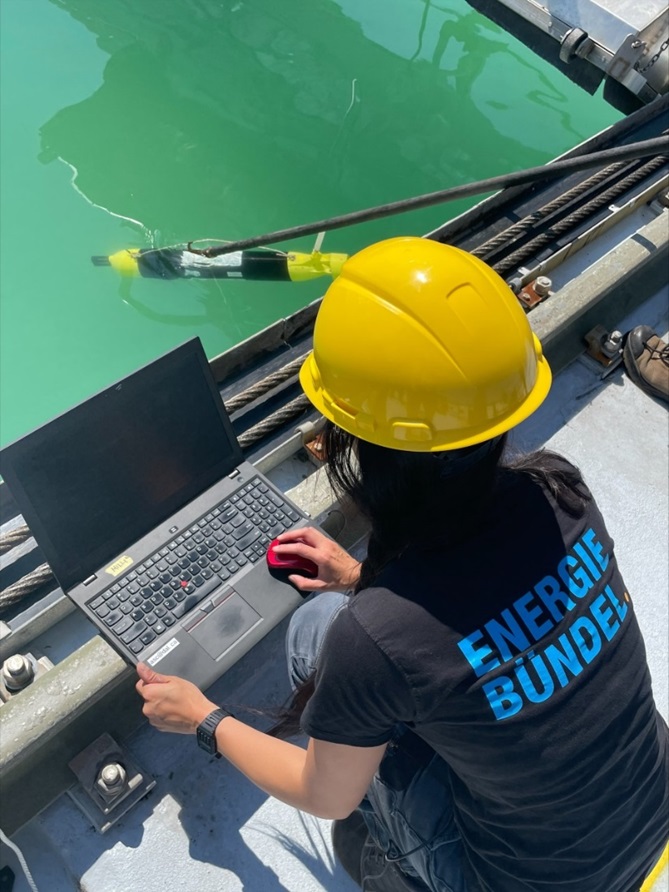 Allison Chua preparing the AUV "Milli" for a new mission (Photo by: Tom Coolbaugh).