Marty Leonard
Dean, Faculty of Graduate Studies


Marty Leonard remembers the day she first came to Dalhousie quite well. Walking across campus after her interview, she felt good; it was a perfect, blue-sky day. "At my interview, I had a strong sense that this was where I wanted to be," she recalls. "And now there was the glorious weather of the Maritimes."

Dr. Leonard grew up in Cobourg, Ontario and remembers spending most of her childhood outdoors, "tromping through fields and mud, cycling to river valleys with friends, wading in streams, throwing rocks, climbing trees." The relationship with nature wasn't intentional; it was just play. But it seems to have made an impact.

Her undergraduate degree was in zoology at the University of Guelph, field-oriented, learning about birds, mammals, frogs and toads. Her master's degree from Carleton University honed in on spotted bats in the Okanagan Valley in British Columbia. Finally, she studied the mating strategies of the marsh wren during a PhD at the University of Ottawa. "There I was, still in the mud."
Working with grad students is my favourite thing... I've encountered all these bright, talented, fabulous people. I want to help them succeed."
Her first job was with Agriculture and Agri-Food Canada (AAFC), where she worked on the welfare of chickens. "It was not what I had in mind as a young biologist," she says. "I learned a ton, got a lot of out of it, but my heart was into something more academic. I wanted to be at a university."

Then came her interview at Dal. She's been here ever since, conducing research on the behaviour, ecology and conservation of birds. She was right about the job — it was exactly what she wanted. (That Maritime weather's another matter.)

Becoming dean

In 2014, Dr. Leonard became Dalhousie's Dean of Graduate Studies, where she focuses on giving the university's 3,500 grad students — across all faculties — the best possible experience in academia and beyond. On a daily basis, that can mean anything from meeting with an admissions officer about a specific student, discussing concerns with a faculty member, helping a student solve a difficult problem, simply reassuring an upset student, or seeking funding for new initiatives to better support students.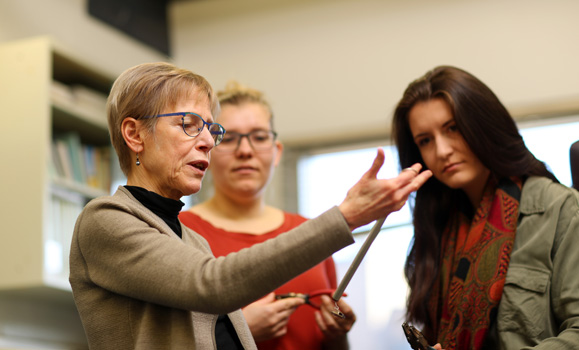 Dr. Leonard in her lab with Hilary Mann (centre) and Anik Obomsawin.
"My vision is simply to support students and faculty," she says. "Working with grad students is my favourite thing. It's what brought me to this office. I've encountered all these bright, talented, fabulous people. I want to help them succeed."  

Dr. Leonard speaks excitedly about the Three Minute Thesis (3MT) event coming up on March 12 and 13, for example. "Every year the diversity and complexity of student research blows me away. I love seeing grad students in action."

Dr. Leonard's approach to her work, with faculty, staff and students, is to "lead from behind," by which she means that when one is surrounded by talented people, as she is, leadership is just a matter of providing a general direction and letting the talent flourish.

Dr. Leonard is currently focused on four major priorities:
She is involved in Dalhousie's initiative to recruit more PhD students as a strategic priority.
She wants to enhance professional development for grad students. " We realize that in addition to skills learned in academic programs, graduate students benefit from professional skills that may not be part of their program". " So, the Faculty of Graduate Studies is partnering with the Centre for Learning and Teaching to create a certificate  that will include topics like entrepreneurial skills, enhanced presentation skills, networking and business management. She also hopes to offer mentoring services from working professionals who have graduated from Dal.
She is working with colleagues in Student Affairs, Health and Human Performance and the Dalhousie Association for Graduate Students to develop a Mental Health Strategy. "Great services are available at Dal in terms of mental health and wellness. But grad students suffer mental health challenges at a greater rate than society as a whole, and they have different stresses than undergraduate students. "We need to develop a strategy to help guide us on what services best support our graduate students."
Dr. Leonard also wants to provide new resources to help students and thesis supervisors build and maintain positive relationships. "A student's relationship with their supervisor is extremely important and can affect whether the student completes their program... We need to support both students and faculty to build those relationships."
On enabling others...
"At a university, people are smart, energetic and full of great ideas so it's just a matter of enabling them. Surround yourself with fabulous people and they'll take it away. Nobody needs leading. They have a lot of initiative."
On the importance of honesty...
"I think it's important to be genuine. People can sniff out insincerity. Maybe that's my animal behaviour background talking."
Five questions
When you were a student, what was your favourite course?
I took a public speaking course in my undergrad that was amazing. We learned how to prepare and deliver all different kinds of talks.

What's your favourite hobby or pastime?
Anything to do with movement: hiking, gardening, running, skiing. I don't like to sit still.

If you were to leave academia and go into any career you wanted, what would you choose?
Conservation of species at risk. But then again, I kind of have a hankering to be a citizenship judge. I love working with our international students.

Who is a mentor or leader who has inspired you in your life or career?
I wouldn't want to single someone out and exclude all the others. I've had many great people help me along the way. On the other hand, I also had a professor tell me as I was beginning my career that I couldn't be a good mother and a good scientist at the same time. So he definitely inspired me to prove him wrong. I guess an anti-mentor can have an effect too.

If you could have dinner with one person — living, deceased or fictional — who would it be and why?

I'd like to have dinner with Nelson Mandela.