Wanda Thomas Bernard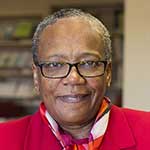 When Wanda Thomas Bernard (1953 – present) was 12, her father was killed in a tragic car accident, leaving her mother to care for her and her nine brothers and sisters growing up in East Preston. It was mere days before she was set to start grade 8 — her first year in a non-segregated school.
"Much of my junior and senior high school years are a bit of a blur," she recalls. "I spent a lot of time in that high school dealing with issues of racism, but I also spent time in those few years dealing with depression because of my father's death. But it wasn't diagnosed, wasn't recognized as such."
But the experience exposed her to the role that both community and the individual can play in supporting people during difficult times. She remembers how social workers (and Dal alumni) Calvin Ruck and Eugene Williams helped her see the big picture in what she and her family were going through, as well as the influence of a family friend who was the first to suggest higher education as a potential path.
That path hasn't always been easy for Dr. Bernard. A bright student, she was only 15 years old when she started classes at Mount Saint Vincent University, but quickly flunked out and had to beg her way back in. As an African Nova Scotian woman, many of her "firsts" — such as becoming Dal's first African Nova Scotian tenure-track hire in 1990 — reflect barriers she's had to push against. But in the process, she's become an inspirational, transformational leader in her field, and at the university.
She was a founding member and president of the Association of Black Social Workers, influencing government legislation and working to improve welfare and child services for Black families in Canada. Her research with Black men and racism, particularly in the criminal justice system, has influenced not only academia but agency- and community-based practice. Her course on Africentric Perspectives in Social Work is the first and only one of its kind in the country. And as director of the School of Social Work from 2001-2011, she continued the school's national leadership in issues of diversity and inclusion.
"There are two schools of thought in social work," she says. "One school of thought sees social work as about social control, while the other sees social work as being about social change and social justice. My entire social work career has really been about trying to facilitate change, working towards change… change for and with the people we're working with, but also in systems and structures, and in teaching and the way we teach and what we teach."
Her efforts have been recognized with the Nova Scotia Human Rights Award (2004), the Order of Canada (2005) and the Order of Nova Scotia (2014), among others. And in 2016, she started an exciting new chapter of her career when she became the first female African Nova Scotian to be appointed to the Canadian Senate.
As for her legacy, she says she hopes others would say she, "was a person who worked hard, who worked well with others to advance change, to move us forward on the agenda for social justice and social change and equity issues… even at times, when it's been challenging to do so, I've always remained very positive and very hopeful for what we can do."
Related links
Audio
Dalhousie Gazette
Senate of Canada