Mayann Francis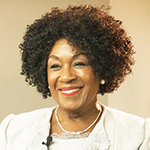 When Mayann Francis (1946-) arrived at Dalhousie in 1990 to fill the newly created Employment Equity Officer position, her directive was to help Dalhousie become a more diverse and accepting institution. It was a big task, but one that she was more than ready for.
Originally from Whitney Pier, Cape Breton, Dr. Francis grew up in a uniquely multicultural working class neighbourhood. She remembers realizing how special her community was after she left for Halifax to attend university in the early '80s.
"I always say Whitney Pier was multicultural before the word multicultural was even coined," she says. "It gave such an opportunity to get to know different people, it was acceptance at such an early age. It wasn't until I left Whitney Pier that I realized not everywhere in the world is like that."
After studying sociology at Saint Mary's University, and earning a master's in public administration at NYU, Dr. Francis spent her career challenging systemic racial and gender barriers at both public and private institutions. She was Nova Scotia's first female ombudsperson, one of the first Black paralegals in Manhattan, the first woman to serve as assistant deputy minister to the Ontario Women's Directorate and the first African Nova Scotian CEO of the province's Human Rights Commission.
Dr. Francis is perhaps best known to many Nova Scotians as the first African Nova Scotian to serve as Lieutenant Governor, a position she held from 2006-2012. Among the most notable achievements of her tenure: invoking royal prerogative — for the first time in Canadian history — to posthumously grant free pardon to civil rights pioneer Viola Desmond (who, this year, is being celebrated on Canada's new $10 bill.)
She's received honorary degrees from Dal, Saint Mary's, Mount Saint Vincent and York Universities, a Luminary Award from the University of West Indies, and induction into the Order of Nova Scotia.
Today, you can see a lasting legacy of Dr. Francis's work in the roots of many of Dalhousie's efforts to build a more diverse, inclusive community. In fact, it was Dr. Francis who created and instituted the school's first employment equity policy in the early 1990s. It wasn't an easy task; when she began at Dal, she had to spend a good amount of her time simply explaining what she was there to do.
"I decided to go around to all the deans, vice-presidents, and directors and basically say, 'Hi, I'm Mayann Francis, and this is what I'm here to do,'" she says.
She had to do no such thing when she returned to campus a quarter century later, in 2015, to serve as the Distinguished Public Service Fellow with Dal's Faculty of Management — and to receive an honorary degree to celebrate her achievements. By that point, her name and her achievements spoke for themselves. 
Related links
Audio
Black History Canada
Dalhousie Gazette