Guy Henson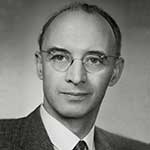 Over the course of a 40-year career that helped transform education in Nova Scotia, Guy Henson (1910-1978) never lost sight of the fact that, for many, education was about more than just a credential or a degree: it was a ticket to better future.
The man who would bring that philosophy to Nova Scotia's Department of Education held various jobs early in his career, ranging from school principal to newspaper reporter. He served as secretary for Nova Scotia premier (and fellow Dal Original) Angus L. MacDonald, and is even considered the architect of the province's integrated regional library system — a first step of sorts in his advocacy for educational resources for the masses.
But it was in 1945, as the Second World War wound to a close, that Henson found his niche as director of the Adult Education division of Nova Scotia's Department of Education — the first such position in Canada. He worked tirelessly to promote his belief that education was a solution to regional problems like unemployment, and that through education people could truly understand democracy and the responsibilities of citizenship in post-war Nova Scotia.
Henson also believed that learning didn't have to happen in a classroom — in fact, it could happen anywhere. Using tools like libraries, radio, film, churches, clubs and social groups, communities could come together and help one another explore and express opinions and become their own leaders.
"This is what will build a people," said Henson of the two-week "folk schools" created under his Adult Education division. A crucial part of the province's post-war education programs, the folk schools trained community members in areas like leadership, theatre, economics and politics. And with the help of friends like Baptist clergyman Dr. William Oliver, with whom Henson accomplished a great deal in Nova Scotia's Black communities, folk schools aimed to increase access to education for disadvantaged populations.
After his time in government, Henson brought his educational beliefs to Dalhousie for two decades as director of the Institute of Public Affairs. The organization, founded in the 1930s in response to research gaps identified during the Great Depression, gained an international reputation under Henson's leadership. It increased its research on socio-economic programs, conducted important work in the field of labour-management relations, and produced seminal scholarship on the impact of Halifax's Africville relocation.
Deeply involved in the local community — serving as president of the Halifax Music Festival Association, Halifax Opera Association, the Nova Scotia Festival of the Arts and more — Henson received many honours during his lifetime, including membership in the Order of Canada in May 1978, a month before his death.
In 1984, Dalhousie combined the Institute of Public Affairs and its continuing education programs under one banner — and didn't have to look far for an appropriate namesake. Henson College would eventually morph into Dal's College of Continuing Education, continuing Henson's driving mission: empowering people through the possibilities of education.  
Related links
Dalhousie Archives
MemoryNS