Eliza Ritchie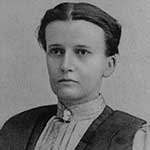 For nearly three decades, Eliza Ritchie's (1856-1933) name adorned a small but beloved student residence on South Street. The residence is no longer there, but the legacy of one of Dal's most influential alumna can be found across campus, throughout the university's history and within the very fabric of student life.
Ritchie, born and raised in Halifax, was a staunch feminist, community leader, activist and professor. She was a champion of the fine arts, an outspoken women's suffragist and someone who dedicated much of her adult life in support of Dalhousie.
It all started in 1882, just one year after women were admitted to Dalhousie. That's when Ritchie began her studies at the university. In 1887, she became one of Dal's earliest female graduates when she completed a Bachelor of Letters with first-class honours in Philosophy. Two years later, she became one of the first women in Canada to receive a PhD after finishing doctoral work on German Philosophy at Cornell University in New York. Her academic pursuits later took her to Europe, where she furthered her studies in Leipzig, Germany, and at England's Oxford University while on sabbatical from her teaching role at a women's college in Massachusetts.    
When she returned to Halifax at the turn of the century, she arrived determined to push for gender equality and didn't waste time making her voice heard. While lecturing part-time at Dalhousie, Ritchie, along with her two sisters, became a prominent figure in the Local Council of Women, among many another societies and groups. A firm humanist, Ritchie saw women's advancement intrinsically linked to the educational, political, and work opportunities available to them. She fought for suffrage with a uniquely democratic brand of feminism for the time, pushing for equal representation of all classes of women in the public sphere.
As a community leader, she also fought tirelessly to advance the arts community in the Maritimes. She served as head of the Provincial Exhibition's art department and vice-president of the Nova Scotia Museum of Fine Arts (later the Art Gallery of Nova Scotia). She believed the Maritimes could be to Canada what she felt New England was to the United States: "a centre for high thinking and for the fostering of art."
Throughout, she continued to offer her time and talent to support Dalhousie. As president of the Dalhousie Alumnae Association she helped establish the first residence for female students, Forrest Hall, and in 1919 she became the first female appointee on the Dalhousie Board of Governors. In 1927, she became the first woman to receive an honorary degree from the university.
Nearly a century later, more than half of Dalhousie students identify as female — and Ritchie's passion and commitment to women's rights and the betterment of her province and university continue to inspire.
Related links
Dalhousie University
Dalhousie University Archives
Dalhousie Gazette