Benjie Nycum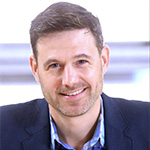 Benjie Nycum (1972-present) always knew he wanted to be an architect like his father.
"Clients would call [my father] and cry, and say that a major problem had been fixed through an architectural solution," he recalls. "Those kinds of things really energized me."
Yet after graduating from Dalhousie with his master's in Architecture in 1997, and moving to San Francisco, he also found himself drawn to writing and advocacy work in the city's LGBTQ+ community. Nycum founded and co-edited YGA (Young Gay America) website and magazine, and wrote a book titled The XY Survival Guide: Everything You Need to Know About Being Young and Gay (2000). It reached unexpected levels of popularity, selling over 250,000 copies upon release, and propelled Nycum into many advocacy projects for LGBTQ+ youth across North America.
Nycum's motivation to work with LGBTQ+ youth stems from his own experiences. "At a point in my life, probably when I was around 16, I can't diagnose how I felt, but the way I felt was probably depressed," he says. "I had reached a point in my life where I decided I would try to fight for that not having to happen to anyone else. That became my mission and one that defined a lot of activities that I did."
Born and raised in St. Margaret's Bay, Nova Scotia, Nycum credits his time at Dalhousie for shaping how he approached the world of ideas. "Every assignment at architecture school ends up on the wall, for professors and peers to critique publicly… so what you learn from that is the gift or critical thinking, and criticism, and that ideas can always be improved."
Now CEO of William Nycum & Associates Ltd., and an adjunct professor of Architecture at Dal, Nycum focuses on health-care architecture — a field he describes as less glamorous than some architectural work, but tremendously important to health-care providers and patients. Architectural solutions help improve the health-care experience, like shortening the distance between a nurses' station and a hospital room to allow more time for patient care, or creating long-term care facilities with individualized spaces for their occupants.
And while his work in LGBTQ+ advocacy and health-care architecture may not seem related, he has found many similarities between the two spheres. "Space really helps or hinders people depending on who they are," he explains. He says care and understanding are paramount when creating a comfortable space for a disenfranchised population — whether it be queer youth or the elderly in a long-term care facility.
After all, architecture is about more than just buildings; it's about connecting with the human experience — or, as Nycum puts it, "I solve human problems."