Today@Dal
»
Go to news main
Upcoming conference: "From Inequality to Justice — Law and Ethics of AI Technology"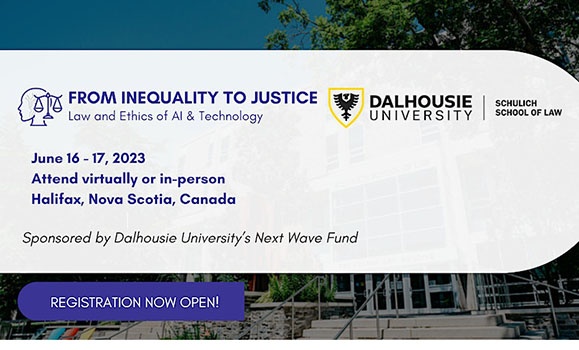 "From Inequality to Justice – Law and Ethics of AI Technology"
June 16 – June 17
Starts at 9:00 a.m. on June 16 and ends at 2:30 p.m. on June 17
How should we approach the ethics of AI and technology? In the current digital landscape, what are the leading questions we need to address to ensure that technology is developed and created with privacy, safety, and ethics in mind? How do we address these issues through code, law, and policy?
This two-day, multi-disciplinary conference hosted by the Law & Technology Institute at Dalhousie University and sponsored by the Dalhousie Next Wave Fund brings together leading scholars working in the areas of technology, artificial intelligence and bias, privacy, data and surveillance, and online harm. The conference's primary focus is on the impacts of technology on equality-seeking communities who are disproportionately negatively affected by the harmful aspects of new technologies.
Please see here for a list of confirmed speakers. A full program with a schedule and panel details is available here. Note that attendees are welcome to attend any session over Zoom by registering for a "virtual only" ticket.
Rooms are available at a discounted rate for conference attendees at the Lord Nelson Hotel. Please contact (902) 423-6331 for booking information and mention the name of our confernece, space is limited.
View conference details at Eventbrite: https://www.eventbrite.com/e/from-inequality-to-justice-law-and-ethics-of-ai-technology-tickets-511761952777
For questions, contact Lucie Guibault