Today@Dal
»
Go to news main
Dal's Jerry Aguinaga and recently retired Ian Nason win CAUBO awards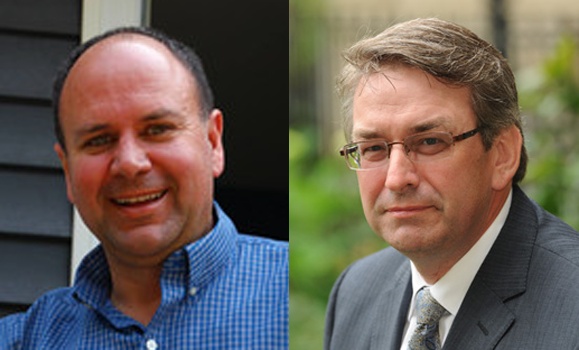 The Canadian Association of University Business Officers (CAUBO) recently recognized Jerry Aguinaga, executive director of Dal's Environmental Health and Safety office, and recent Dal retiree Ian Nason, the university's past vice-president finance and administration, with awards at its annual general meeting. Aguinaga received the Emerging Leader Award, Nason the Distinguished Service Award.

Read CAUBO's profiles of these two exceptional individuals below:
Jerry Aguinaga

Throughout his time at Dalhousie, Jerry has instilled the values of responsibility and mutual accountability for health and safety across the university community. This culminated in the university's effective response to COVID-19. Jerry not only led these efforts at Dalhousie but became an informal local leader for university safety during the pandemic. He oversaw the development of the COVID-19 Return to Campus Guidance document that was adopted for use across Nova Scotia and offered clear expectations for how to manage COVID risks in the university setting.

The pandemic served to highlight Jerry's already proficient leadership abilities. In 2018, he was named the first co-chair of a revamped provincial council providing advice to the Minister of the Department of Labour and Advanced Education on occupational health and safety. Jerry built trust among the participants and challenged them to ensure everyone was heard and that consensus was reached.

Colleagues say that Jerry's key leadership skill is "to be unfailingly supportive to everyone, all the time," that he "can persuade others to willingly choose to do something that they would otherwise not do at all," and that he illustrates that "one does not have to be at the top of an organization's hierarchy to successfully guide it."
Ian Nason

Ian, who retired in 2020, held several positions at Dalhousie University over a 37-year career. A longstanding member of CAUBO, Ian was co-chair of the organizing committee for the 2003 annual conference in Halifax, and contributed to many other conferences as a speaker. He served as a member and Chair of the CAUBO Financial Reporting Committee from 1989 to 1994. In addition, he was a member of the Canadian Universities Reciprocal Insurance Exchange Advisory Board, serving several terms as Board Chair, Vice-Chair and Treasurer between 1999 and 2020.

As a member of the Canadian Research Knowledge Network Executive Committee and Chair of their Finance and Audit Committee from 2017 to 2020, he helped guide the organization through a successful acquisition, provided them with advice on new financial and operational processes, and contributed to the development of their strategic plan in 2018-19.

At Dalhousie, Ian implemented a balanced budget regime and debt reduction measures to address a $12 million accumulated operating deficit and a $28 million capital deficit — total deficits of over $100 million dollars in today's terms. Since then, Dalhousie has produced 32 consecutive balanced budgets under Ian's watch, and he helped put a capital debt policy into place to ensure long- term financial strength.

Ian is known by colleagues for taking a collaborative approach to addressing academic priorities, and for never forgetting the importance of students as the heart of the university's mission. His leadership style of listening, discussing, and evidence-based decision-making made him a popular leader across the university. His entire team signed a letter of support for his nomination for a CAUBO recognition award.
Download the Summer 2021 issue of CAUBO's University Manager for a full list of award winners.