Today@Dal
»
Go to news main
Shout‑Out summary
Posted by
Communications, Marketing and Creative Services + Human Resources
on June 29, 2021 in
Community Highlights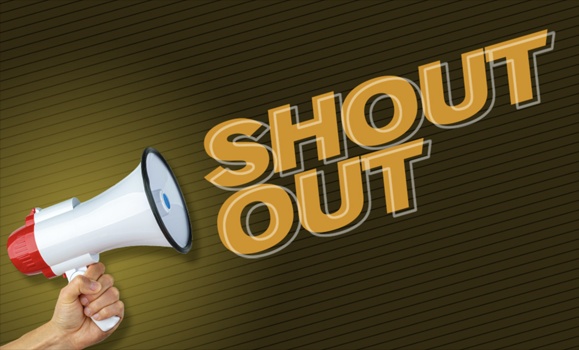 Shout-Out is a new peer-to-peer recognition program that allows you to informally give a shout-out to someone in your faculty, department or unit, or in the broader Dal community, who has helped you or your team in some way — big or small, during the past year.
Each day in Today@Dal for the next couple of weeks we'll be featuring just some of the many shout-outs submittted. It will take us some time to feature them all, so make sure to visit the Shout-Out site in myDal for all of the latest kudos and thanks!
Submit your own "shout-out" on myDal.
Joanne Tortola     Faculty of Law
Joanne joined the Law School family in 2019. After working with the previous Director of Finance & Admin for almost 20 years I am greatly appreciative of how seamless Joanne made the transition (for both of us). Thank you, Joanne, for all you do for the Law School.
Tiffany Coolen-Jewers
Laura Godsoe, Emma Wach, Kristin Hewlett, Trisha Estabrooks, Mitchell Breau, Silvia Behrens-Kelleher, Stefanie Adams, Ann Pyne, Renee Leblanc, Sheila MacLean, Marina Clayton-Theriault, Britney Sears, Lisa Morrison     Recruitment Consultants, Human Resources & Facilities Management
A shout-out to this group for continuous commitment to service excellence, awareness and engagement with EDIA, and for supporting each other with kindness and care. I value working with all of you, and appreciate our conversations sharing expertise and knowledge. You are wonderful.
Angela MacMaster
Patricia Laws & Leslie Philmore     Dean's Office, Faculty of Science
A sincere thank you to Patricia and Leslie for their collaboration, innovation and good humour. It is always a pleasure working with you, but it's especially appreciated in light of the pandemic when your expertise has helped us work through new scenarios and situations.
Beth Cann
Samantha Wilson     School of Health and Human Performance, Faculty of Health
Samantha has managed to help support our entire School during a pandemic, while negotiating multiple hiring processes as well as moving faculty and staff into different offices. There were more than 15 people that moved offices and we have gone through two renovations with two still to go! Sam has remained a phenomenal leader during all of these transitions.
Laurene Rehman
Maureen Kirk     Dalhousie Hearing Aid Assistance Program, School of Communication Sciences and Disorders (Faculty of Health)
Thank you, Maureen for keeping our clinic running smoothly. We really appreciate all the hard work and dedication you have to our patients and to the program. Everyone is so thankful for you.
Sarah Mason
Elizabeth Sanford and Cherilyn MacIntosh     Faculty of Law
Just wanted to say thank you to Elizabeth and Cherilyn as they have been extremely helpful assisting me with small tasks when they are in the Law School. Their assistance has been greatly appreciated, not just by me, but by many other staff at the Law School.
Tiffany Coolen-Jewers
Danielle Boyd     Legal Counsel Office
Thank you, Danielle, for all your assistance with the multitude of contracts, amendments, license renewals and SOWs that all require review before signing. It seems like I am constantly sending them your way. Your expertise and expedience in getting through these does not go unnoticed. I really appreciate all the work that you do for us!
Bev Hubley
Brenna MacNeil      Communications, Marketing and Creative Services
Brenna has been working closely with our office on two big graphic design projects for weeks now. She has brought an invaluable strategic lens to both projects, demonstrated exceptional organization and flexibility, and worked diligently to meet tight timelines. It is always a pleasure to work with Brenna.
Chloe Westlake
2020-2021 First Year Chemistry TA Team   Department of Chemistry, Faculty of Science
This team of superhero TAs did not miss a beat in the transition from in-person to online teaching! We are beyond fortunate to have these folks as our colleagues on the First Year Chemistry Team:

Adrienne Allison,
Alastair Price,
Andrew Walsh,
David Morris,
Dreenan Shea,
Elizabeth Lee,
Emily Traver,
Erin Lyle,
Fabian Bong,
Izzy Curtis,
Joe Weatherby,
Joseph Tassone,
Kameron Vigneault,
Kelly Sit,
Kirsten Jones,
Laith Alhadeed,
Landon Getz,
Matt Margeson,
Michael Charlton,
Nick Roberts,
Pat Giesbrecht,
Reem Karaballi,
Rob Foisy,
Saad Azam,
Sam Dudra,
Sam Knight,
Sarah Martell,
Scott Young,
Sierra Bonsall,
Teresa McMillen

We are so very proud of you and your incredible contributions to the First Year Chemistry Program! Thank you for EVERYTHING! #TeamWorkMakesTheDreamWork
Jennifer MacDonald
Administrative Managers, Faculty of Health (Joyce Rogers, Sam Wilson, Wanda Dundas, Coleen van Loggerenberg, Jascinth Butterfield, Shelley Colbourne, Mike Crawford, Crystal Vaughan, Beth Weir, Irene Fitzgerald)     Faculty of Health
Thank you for managing your Schools/College through a time of great uncertainty during the pandemic and remote working. What initially looked like remote working for a few weeks turned into 15 months! Thank you for your resilience and adaptability and for having patience with an ever moving target. Best team ever!
Cathie Smith-Gillis
James Wilson, Mike Pauley, Ryan McNutt, Janet Bryson and Laurel Munroe     Academic Technology Services and Communications, Marketing and Creative Services
Thank you to this amazing production team for all your work behind the scenes to enable the success of our Community Check-Ins and Strat Plan Launch in MS Live this year!
Chloe Westlake
Tiffany Coolen-Jewers     Schulich School of Law
Tiffany leaves no stone unturned in the Schulich School of Law, from our daily financial administration, to bursaries and scholarships, payroll, and building/space management, to supervising our dynamic support staff team. Plus baking and sharing yummy treats at every opportunity. I often say she can get more done before 9am than most people in a day. I, and many others in the Law School, would be lost without Tiffany!
Joanne Tortola
Susan Whitman and Sandra White     Payroll team, Human Resources
A big shout out to Sandra and Susan for their quick, efficient responses to all the complicated HR files with payroll implications. The Job Design and Employee Relations team is eternally grateful to work with you! Thank you!
Sundari Pashupathinathan
Tatjana Vukoja, Jessica Mailhiot, Marie Raynard     Fountain School of Performing Arts
To my fantastic colleagues! The past two years have been filled with construction, renovations, staffing shortages, and (just to top it all off) a global pandemic. Together we planned endless schedules and scenarios, moved pianos and computers, worked during vacations, and packed, unpacked, and packed again. I'm grateful for your endless energy, professionalism, enthusiasm, thoughtful advice, laughter, and friendship. As we head into yet another summer of construction dust, I'm so proud of what we have achieved together. THANK YOU!
Lesley Brechin
Face-to-Face Planning Team     Faculty of Health and others who are essential to our team
Impossible to name everyone, but you know who you are and have a recurring meeting invitation every Thursday at 11am! This has been a phenomenal group of staff, instructors, faculty academic leaders and others from multiple units across campuses who have stepped up over the duration of the pandemic. Our success in continuing programming for almost 1,000 on-site and placement students is all the proof needed that this is a 'Super Team'. Exceptional group and many, many laughs through it all. Thank you for all you have done.
Suzie Officer
Dr. Gerard Corsten     Dalhousie Department of Surgery, Division of Otolaryngology-HNS, IWK Health Centre
Fantastic, collaborative leadership through the pandemic. He kept all members of the IWK Department of Surgery informed on the ever changing Public Health recommendations in a clear, concise, and timely manner. He stayed calm when confronted with challenges in interpretation that arose in the OR and helped all involved to work through the situation to better understand the recommendations at that particular time. Gerard stayed engaged and willing to discuss all safety concerns and other issues arising over this time. Always a good leader, but shined through the challenges brought by the pandemic thus far. Inspiring confidence in us all. Thanks Gerard.
Liane Johnson
Patrick Greene     Procurement
Patrick has been working with me off and on for the past 4+ years, helping the Accessibility Centre source a software program to increase efficiencies and ease of access for students, staff and faculty. The Centre has relied on several different in-house solutions to execute our processes which require a significant amount of time to manage and are not scalable considering the scope of our work. Patrick has been extremely patient, receiving and responding to questions with grace. I appreciate how Patrick shares information and effectively coaches through all steps of the procurement process. Since we're so close to signing on the dotted line, I extend my gratitude to Patrick.

Quenta Adams
Dawn Morrison, Terry Murray-Arnold and Stephanie Brown, Faculty of Health Communications Team    Faculty of Health
It has been a pleasure working with Dawn Morrison, Terry Murray-Arnold and Stephanie Brown, who make up the Faculty of Health Communications team. They are hard-working and are always coming up with new and fresh ideas to profile students, staff and faculty. Kudos to them!! The best communications team around!!
Ingrid Waldron
Stephen Brown     Information Technology Services
Steve is always available whenever we run into technical difficulty and responds to all cries for help with a smile and a solution. He's professional, approachable and helpful - a great colleague. thank you Steve!
Laura Hynes Jenkins
Robert Beiko     Faculty of Computer Science
Thank you Rob for your great support and mentoring! Even if we miss something in our grant proposal, we know your sharp eyes will catch them :)
Masud Rahman
Sara Kirk     Healthy Populations Institute, UpLift Partnership, Faculty of Health
Thanks Sara for your continued leadership over the past 15 months during the pandemic. You have shown great innovation, adaptability, and a continued focus on our objectives. We have been able to accomplish more than expected and in new ways - you are an inspiration to the Team!
Margaret Kay-Arora
Scott Pronych      Communications, Marketing & Creative Services
Scott, you're a marvel. Having your web design expertise on our CMC team is truly a gift. Thank you for hanging in there as I pester you for changes upon changes (on what feels like a daily basis, I'm sure)! We couldn't do the great work we do without you!
Lyle Quinn
Andrea McKay     Communications, Marketing & Creative Services
Thank you, Andrea, for your commitment to the Dal.ca Web Renewal Project! Your expertise, leadership, and drive to improve our website for its users inspires me each day.
Lyle Quinn