Today@Dal
»
Go to news main
Kudos: Dal CS' "Tweetris" Nocturne exhibit wins the festival's first Artist Award
Posted by
Communications and Marketing
on October 31, 2012 in
Kudos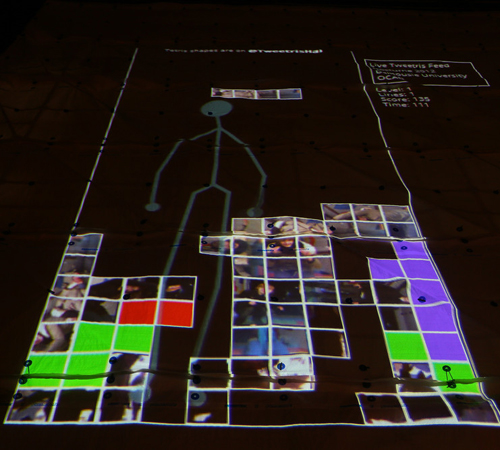 From the Nocturne team:
For the first time ever in 2012, Nocturne attendees were able to vote for their favourite project or artist of the evening.

Throughout Nocturne: Art at Night audiences could be heard cheering for participants in the interactive and fun artwork Tweetris, situated on Spring Garden Road near Dalhousie University's Architecture site. Nocturne is pleased to announce the team behind this project is the winner of the 2012 Artist Award.

"The Tweetris team is overjoyed by the public response to the exhibit. Tweetris is at its core about play, and we saw amazing playfulness during the night at Nocturne," states Derek Reilly, member of the creative team. Though it was difficult to gauge numbers of participants in this interactive exhibit, Reilly noted that there was constant participation and a crowd watching throughout the evening.

Other creative team members include Dustin Freeman, Nathan LaPierre, Fanny Chavalier, Emma Westecott and Kyle Duffield, with programming by Nathan LaPierre, Jihal Patel, Derek Neil, Swapnil Mahajan, and Mohamad Salimian. Kirstie Hawkey and Bonnie MacKay provided administrative support, and Gabriella Mosquera, Juliano Franz and Samuel Perreault created site plan and promotions. Mohammed Alnusayri, Savneet Singh Arora, and Gaurav Sharma provided on site logistics. The project comes from the Dalhousie University Faculty of Computer Science.

Tweetris was a collaborative mashup of Tetris, yoga and Twitter, and participants played games of whole body tetromino (Tetris shape) making. When the shape of a requested tetronimo is held successfully, a video snapshot of the player was tweeted. Tweeted snapshots were then used in real time in a game of Tetris that attendees played on their phones or on a large wall display beside the exhibit.

Congratulations to the Tweetris team!