Steve Ells (Class of '88) was born and raised in the Annapolis Valley and returned there to work on his family's livestock and vegetable farm in Sheffield Mills, Nova Scotia, after spending time away. In 2011, Steve and his wife Karen (Class of '89) started a new venture on the Ells' eighth-generation land: a vineyard.
"After being off the farm for a number of years and gone a lot from Nova Scotia, we decided it would be nice to get back into farming," says Ells. "Much of the landbase of the family farm had been sold to allow my father to retire, so we needed to do something smaller scale but higher value. We looked at an orchard, a market garden and a vineyard as options and decided the site lent itself very well to grape growing. There was also a need in the market for more grape production."
Since that time, Ellslea Vineyards has grown to 55 acres and produces a mixture of hybrids and vitis vinifera for the local industry, with a focus on grapes for sparkling wines. Ellslea has grown grapes for local wineries, including Benjamin Bridge in Gaspereau and Port Williams-based wineries Planters Ridge and Beausoleil Farmstead. Ells and Karen have developed strong relationships with the local industry.
It was his longstanding relationship with Benjamin Bridge, along with his expertise in grape growing, that led the award-winning winery to recruit Ells as its new head viticulturist and vineyard manager when the position became vacant earlier this year.
"Benjamin Bridge was in need of a new vineyard manager, and they are quite familiar with our vineyard and production methods," says Ells. "Since we had significant damage to our vineyard after the polar vortex in February 2023, I was also thinking about acquiring some off-farm income. It was a win-win for both of us."
Benjamin Bridge is well-known in Canada for its sparkling wines, including local favourite Nova 7. Nestled in the picturesque Gaspereau Valley, the vineyard enjoys the benefits of a microclimate that provides conditions suitable for producing traditional method sparkling wines, along with aromatic whites.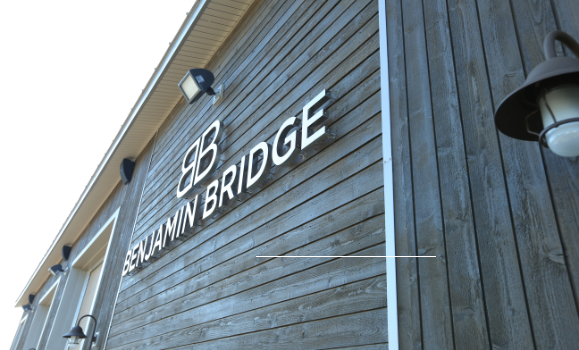 The winery is also known for its innovative products — including Canada's first canned Pétillant Naturel, a raw and natural sparkling wine — and its unique hospitality, including an ice-skating surface installed on the property in the winter months. For many reasons, Benjamin Bridge is often recognized as a leader in the Nova Scotia wine industry.
"Whether it's the wines they're making, their stewardship of the land they farm, how they work with the team they employ or the collaboration with the community and peoples around them, they put great care into their entire operation," says Ells. "They put a lot of effort into all they do and a lot of thought into how they do it."
Rebounding from a winter setback

Which is why their choice to recruit Ells as their head viticulturist speaks volumes about his ability and expertise. In his role, Ells is responsible for all of the activities in the vineyard, for maintaining the vineyard and ensuring all vines are healthy. It sounds like a challenge at the best of times, but particularly after the extreme cold that swept through Nova Scotia in February.
According to Ells, the extent of the damage is unknown at this point. Hybrid grape varieties are doing fairly well, and new growth at the bottom of Chardonnay, Pinot Noir and Riesling vines is promising. Some replanting will be required, but it will take the full growing season to determine which vines have failed completely.
Between rehabilitating his own vineyard and that of Benjamin Bridge, Ells has a lot on his plate. But that doesn't stop him from giving back to both his industry and his community.
Ells volunteers with the Canning Fire Department and is involved in the Kings County Federation of Agriculture. He also currently serves as president for the Nova Scotia Grape Growers Association, a not-for-profit organization representing over 100 growers in the province. About half the grapes grown for wineries in Nova Scotia are grown by independent growers like Ellslea Vineyards, and the industry continues to grow.