From November 7 to 9, contenders from more than 60 countries will come together in Berlin, Germany to pitch their ideas for a better world at the annual Falling Walls Science Summit. Included in the global mix will be two Dalhousie PhD students and the ocean education program Ocean School offered by Dal's Ocean Frontier Institute.
The students, Jamil Muradov from the Department of Medical Neuroscience and Joe Bedard from the Department of Chemistry, will take centre stage the first day of the three-day event.
"I'm excited to meet and get to share this experience with these participants, who all come from around the world," said Bedard about sharing his research with the global gathering of thought leaders and Nobel Prize winners who come each year to learn about the world's latest breakthroughs.
"The idea of presenting on not just a global stage, but to a truly diverse, interdisciplinary audience, makes this such an exciting opportunity."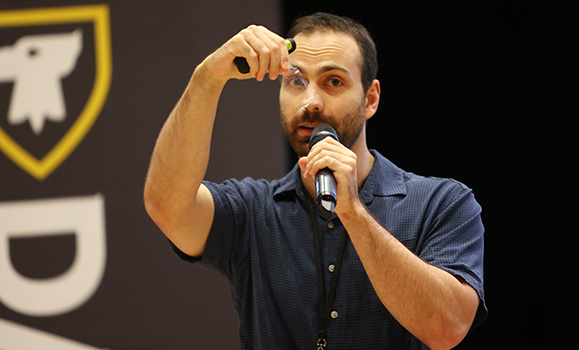 PhD Joe Bedard making his pitch for carbon free materials. (Nick Pearce photo)
To get to Berlin, Bedard took second place at a Dalhousie-hosted Falling Walls Lab regional pitch competition last September. His three-minute presentation on "Breaking the Wall of Alternative Plastics" focused on his lab's breakthrough discovery that enables materials to be made from nitrogen drawn from the air, ending humanity's addiction to fossil fuel-based material manufacturing.
Muradov, the first-place winner at Dal's regional competition, presented on "Breaking the Wall of Concussion Complications," by redeploying a drug currently used to treat Alzheimer's disease. It's a breakthrough that his lab has shown could play an important role in reducing the impact of concussive incidents.
If you want to cheer them on, you can view the pitch competition on November 7 via livestream on the Falling Walls Lab website. You can also hear CBC Radio host Portia Clark interview Muradov and Bedard at 6:20 a.m. on Information Morning on November 7. Clark was a judge at the Dal-hosted regional finals.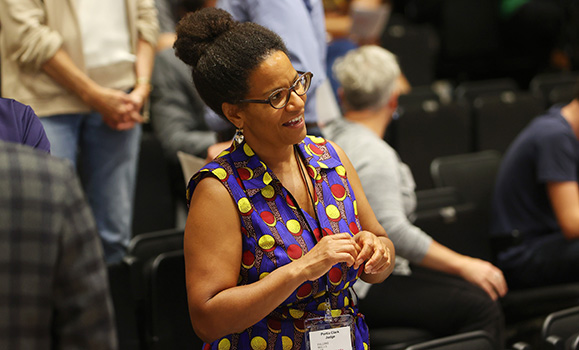 CBC Radio host Portia Clark was a judge at the Atlantic Canada regional Falling Walls Lab competition. (Nick Pearce photo)
"It is a wonderful to see our community embracing this yearly celebration of breakthroughs inspired by the fall of the Berlin Wall in 1989," said Dr. Alice Aiken, Dalhousie's vice president of research and innovation, who will be participating in a panel discussion during the summit. "By adding to this dynamic conversation, our research community is putting our ideas and innovations on the global stage and exposing them to a world of opportunity." 
Joining the students will be Dalhousie marine biologist Dr. Boris Worm who leads the Ocean Frontier Institute's Ocean School. The program, offered in partnership with the National Film Board of Canada, provides free online educational experiences that combine leading-edge technology, with inspiring visuals and stories to create compelling and integrated learning experiences.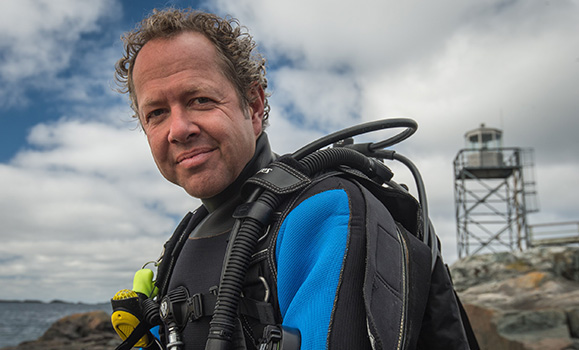 Marine Biologist Dr. Boris Worm will be pitching his program Ocean School. (Nick Pearce photo)
Ocean School won a global selection process to participate in the Falling Walls Engage competition during the summit which aims to identify the best science engagement programs in the world each year. 
"At Ocean School, we have been building ocean literacy tools and resources for kids for almost a decade and I am thrilled to see that this approach resonates with a global forum like Falling Walls," says Dr. Worm.
"We hope that this brings greater visibility and new partners to Ocean School, especially in the Global South. As the ocean touches everyone on this blue planet, we hope to really broaden our reach, bringing the ocean into classrooms everywhere."