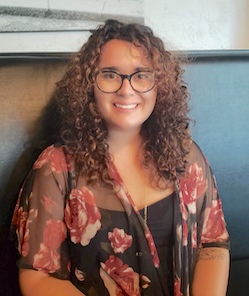 Morgan Paul loves when October rolls around. She says,"it's holistic and a really good month for me."
The second-year Master of Information student from the Maliseet First Nation in New Brunswick finds Mi'kmaw History Month in Nova Scotia, and the month-long focus on Indigenous culture, energizing and a chance for connection.
Not only is Paul interested in the cultural events, like workshops on traditional beading and drum making, she's excited about the dialogue on Indigenous Data Sovereignty (IDS), the right of Indigenous People to own, control, access, and steward data about their communities, lands and culture.
Currently building the framework for her master's thesis, Paul is examining gaps between open access practices, which ensure academic research is available to everyone, and IDS guidelines. She says, "There's lots of points of contention between the two," but she wants to find ways of making them more supportive of one another.
Among the many concerns about academic publishing is its inherent tie to colonial structures like the 'Indian Act', passed in 1876. As Paul points out, policy governing Indigenous Canadians is full of assumptions — in this case, an assumption that Indigenous people gather and share information like all other Canadians.
Having just published her first academic article, Looking to the Future: Indigenous Data Sovereignty and Policy in Canada, Paul notes that the open access publisher Pathfinder didn't require her to submit a positionality statement that tells readers about her relationship to the subject matter.
Instead, Paul included this in her opening. "This paper has been written through a First Nations lens as these are my own people and this is an IDS context I am capable of appropriately examining." She is appreciative that Pathfinder was willing to publish her article when other open access publications just said no.
Incredible wrap-around support

New to this area of study since starting her master's degree, Paul's passion for the topic has made her consider continuing to work in this area, and eventually pursuing a Ph.D. First, though, she says she needs a break from working and going to school at the same time.
The first in her family to pursue a graduate degree, she's also the very first recipient of the Promise Scholarship for the Master of Information Studies program. Paul says she wasn't sure she qualified when she first heard of it, but since she was already applying to the program, she put in an application.
Paul says, more than the money, it was the 'wrap-around' support which has made the difference. "Anything, you need," she says, "a laptop, you need notes, you need anything. They are willing to help you."
Sandra Toze, director of the Master of Information program, says, "Morgan has been exceptional and is working on critical research." Toze adds that "As a profession we are still working to respond to recommendations from the Truth and Reconciliation Commission, which encourages us to consider what we teach, how we teach, the need to consider colonial assumptions and to focus on bringing in more diverse students."
Be proud to share your story

Since starting at Dalhousie, Paul has been joined by her brother who is studying science. Her family and community, Sitansisk, the urban Wolastoqey community of St. Mary's First Nation, she says, are also cheering them on. Each time she travels home to New Brunswick, she does the rounds, visiting friends and family who have encouraged her to pursue an education and sharing her experience.
For other students who may be considering opportunities such as the Promise Scholarship, Paul encourages them to "always apply to everything" and to not undersell themselves. "Many people won't apply to something if they feel they are not 100% a perfect fit," she explains. "Write about yourself honestly and with pride. Always speak to the things you are proud to share. Writing from a passionate place will have a great impact. People want to know about you and want to listen to your story."