When Lisa Colangelo thinks about how she's grown while pursuing an online/blended Master of Business Administration (MBA) program at Dalhousie, she's quick to point out one important change. "I am not the same leader coming out of the program that I was going in," she says.
Colangelo, who started the program in 2017 and is graduating on October 3, says she has learned to lead by hiring great people and then "guide them and direct them along the way." Having advanced to a leadership position as Chief Strategy and Customer Experience Officer at Western Financial Group, it's a skill she uses daily.
An example to follow

After Colangelo started her career at TD Bank in Toronto, she noticed how talented one of her colleagues, a Dalhousie MBA graduate, was at leading a team. Colangelo says "when she went into meetings, I saw that she had a good breadth and depth of knowledge."
When asked where that skillset had come from, her co-worker shared more about the MBA program at Dalhousie and how much she had gained from it. With that recommendation, and a desire for deeper knowledge of financial management, Colangelo joined Dalhousie's MBA program in 2017.
Having to pull together

When she began the program, Colangelo was in the process of moving to a new position with TD in Alberta. She would move five times while completing her MBA, as she advanced in her career. She took the maximum allowable time to complete her degree, so she could take breaks and spend time with her husband and two sons.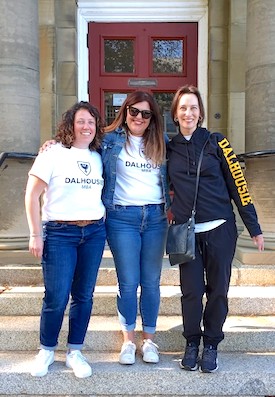 "I loved the flexibility of the program," says Colangelo. "It's something that worked really well for me."
The COVID-19 pandemic stands out as a defining moment for her. Although she faced the dual challenge of working in the banking sector during lockdowns and studying remotely, she found it came with an unexpected positive.
"Some of the relationships I built at Dalhousie really got strong during that period," says Colangelo. "Because we were going through it together."
Pictured right: Lisa on campus
for an intensive
A moment of doubt

Even with those close connections, Colangelo reached a point where she considered stopping due to the demands of family life, working full-time, and being a student. "It was early in the program and I thought, 'What am I doing?'" says Colangelo. "I didn't think I had the capacity to carry on."
After consulting with her network of mentors, classmates, and family, she decided to push forward. It was only possible by leaning on all her supporters. "There's a bit of an army that surrounds you when you're completing the program like this."
That resilience has paid dividends. Colangelo says the MBA program has expanded her knowledge of the financial sector and helped her work with diverse teams.
Continuing to mentor

Lisa's family will travel with her from B.C. to take part in convocation, and to visit Halifax for the first time. She feels excited and has "a bit of disbelief" because her classes have been an integral part of life in their household for six years.
Now that she's completed her studies, she is especially grateful to all those who helped her achieve her goals. People in her network now turn to her as a mentor, and Colangelo is feeling the 'great rewards' of this role. "You help them see and learn from your experiences," says Colangelo. "It's fulfilling because you're giving back to those who are coming up behind you."
Pictured below: Lisa with her husband and sons