This article is part of How I Spent My Summer, a series of articles showcasing what students got up to over the past few months -- from work-intergrated learning to mini-courses and more. Find more articles in the series at the bottom of this article.
One of Eleanor Sawchuk's assignments as a wardrobe assistant with a major theatre festival near her hometown in Huron County, Ont. this past summer involved creating two jackets from scratch for a lead character. The challenge? One had to stay in pristine condition, while the other required a rough look reflective of the character's story arc.
"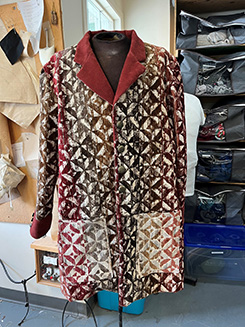 I had to grate it with an actual cheese grater to get some of the breakdown," says the second-year Costume Studies student, explaining the technique she used to achieve the desired results. The jackets were made from upholstery-type fabric, which she says was "like sewing carpet." She used a pattern for the body of the jackets and the collars and then she patterned the sleeves herself. 
This was Eleanor's second summer working with the Blyth Festival, an annual theatre showcase centred around plays written, developed and performed by Canadians. This time around, she had a year of formal Dal study under her belt. She says she did a bit of everything on the job, thanks in large part to the expansion of her skills learned in her first year as a student in the BA with Honours in Theatre (Costume Studies program). 
"I would not have been able to do nearly as much as I did this year [at Blyth] if I didn't have that experience from Dal," she says.
Diving into historical dress

Eleanor's summer job as wardrobe assistant/stitcher included working on the festival's production of The Real McCoy, an experience that allowed her the amazing opportunity to work on costumes for a play set in the late 19th and early 20th centuries. 
There she met the production's costume designer, Tamara Kucheran, who would be joining the Fountain School of Performing Arts this fall as a lecturer and assistant professor in set and costume design.
"I took immediate note of Eleanor's skill and professionalism," says Tamara, who teaches Eleanor this term. "I was delighted to learn [that she] was a student in Dal's Costume Studies program, and I was astonished to discover Eleanor had only completed the first year of the program thus far."
As an incoming faculty member, Tamara was impressed by the quality of student the Costume Studies program attracted and excited to witness the program's excellent standard of training in action.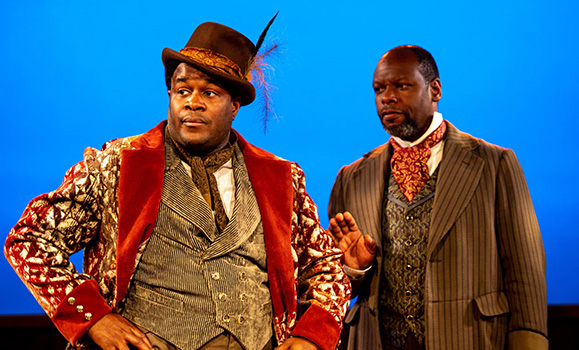 A scene from The Real McCoy.
A boost of confidence
Self-taught in sewing (with guidance from her mother and grandmother), Eleanor has been creating costumes since a young age. With an interest in film, stage, science-fiction, and fantasy, she spent a lot of time creating cosplay. During her high school years up until the year before she came to Dal, Eleanor worked as an assistant to a designer who owned a vintage clothing shop in her hometown.
Left: Eleanor engaging in a bit of cosplay.
In her first year at Dal, Eleanor's skills in sewing work improved through the support and guidance of her instructors and through her course work.
"Doing it in class for marks meant I had to do it the right way it's done," Eleanor says with a laugh. "Because when I teach myself stuff, I'll do it the quick and dirty way. But having to do it the right way was really helpful."
She credits the Dal program with giving her a big boost in her confidence and ability to work for a professional theatre festival.
"It just made me more confident in my in my skills because I had the experience of practice, and I had the experience of knowing I was doing a good job and knowing I was doing well. So, I really like that. The validation is great."
Also in this series: