The Snapshot
With support from Dal Innovates, PureSpire Biomonitoring Technologies founder Dr. Crystal Sweeney aims to develop products that make a critical difference in reducing risks associated with occupational carcinogen exposure in firefighters.
The idea
Canadians have gotten all-too-used to seeing smoke in the air, to coughing and teary eyes stung by particulate matter from out-of-control fires hundreds of miles away. But what if you are in the centre of the inferno? What could the impact be when the smoke is so thick you can't see your hand in front of your face?
These are questions Dr. Crystal Sweeney, an analytical toxicologist who completed her PhD and postdoctoral fellowship at Dalhousie, became concerned with as she witnessed an increasing number of blazes spark to life across North America in recent years. Her thoughts turned to the firefighters exposed to the toxic soup of carcinogens that she knew surrounded them in the line of duty.
As an analytical toxicologist, Dr. Sweeney wanted to put her expertise into action to protect those who protect us.
The challenge
Beyond forest fire smoke, Dr. Sweeney says combustion of modern building materials, plastics, and synthetic chemicals increases the risk of cancer for anyone exposed. Despite state-of-the-art protective gear and strict decontamination procedures, occupational cancer is the leading cause of line-of-duty firefighter deaths, according to the International Association of Fire Fighters (IAFF).
IAFF Studies show a direct correlation between a firefighter's exposure to chemicals at work and a 9 per cent greater chance of being diagnosed with cancer and a 14 per cent greater chance of dying from the disease.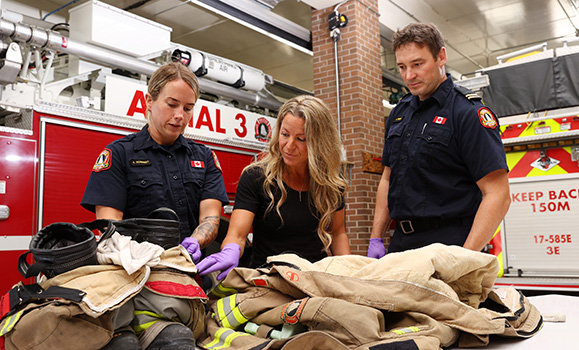 "Firefighter cancer is an epidemic and I wanted to do something to protect our heroes," says Dr. Sweeney, whose startup, PureSpire Biomonitoring Technologies, is dedicated to developing products for monitoring and mitigating intake of occupational carcinogens.
"We know that certain carcinogens, including some heavy metals, phthalates, and PCBs [Polychlorinated Biphenyls] can be detected in sweat," Dr. Sweeney explains. Now, with advances in biosensor technology, her company is zeroing in on ways to determine if additional cancer-causing chemicals, including volatile organic compounds like benzene, and "forever chemicals" like PFAS (polyfluoroalkyl substances), can be detected and tracked in sweat, as well.
Focused on sweat as the key method to test for carcinogens in the body, Dr. Sweeney needed to get a better understanding of what monitoring applications would work for firefighters.
To find the answer she joined forces with biomaterials expert Dr. John Frampton at Dalhousie's School of Biomedical Engineering. With his collaboration, she began to explore product development on a patch that could be worn by firefighters to indicate the levels of priority fireground carcinogens present in the body.
The solution
With the concept for her product in hand, Drs. Sweeney and Frampton turned to Dal Innovates, Dalhousie's hub for entrepreneurial guidance and support to start building a business plan. The Dal Innovates program Lab2Market guided Dr. Sweeney through a customer discovery process that gave her the tools she needed to interview over 75 firefighters.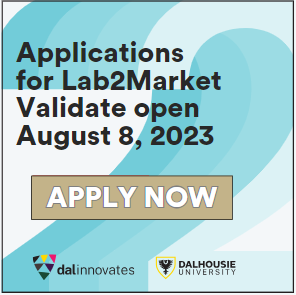 She says the information from those with firsthand experience was valuable. "I learned that what they really want are new ways to both monitor and reduce their body burden before cancer develops."
Lab2Market instructors also encouraged Sweeney to get out of the lab and network. So she used part of the $15,000 in funding she received as a Lab2Market participant to take a deeper dive into the firefighting field. "I used the funds to attend the International Firefighter Cancer Symposium in Miami and was immersed in the latest research in firefighter cancer prevention, early detection, and treatments," she says.
Assured by her experience of the market need to help firefighters measure and manage toxic exposures, Dr. Sweeney set to work establishing PureSpire Biomonitoring Technologies. Leveraging her expertise in analytical toxicology and her partnership with biomaterials expert Dr. Frampton, Dr. Sweeney says she is creating a novel biosensor patch that is, "on track to allow firefighters to assess their internal exposures over time."
The impact
Dr. Sweeney's work caught the attention and support of David Perez, a Florida-based firefighter who is also the Southwest Florida Regional Coordinator for the Florida Firefighters Safety and Health Collaborative. Perez, who is fighting multiple myeloma and mantle cell lymphoma, two rare blood cancers, is passionate about finding solutions to mitigate cancer risks for firefighters.
Inspired by Dr. Sweeney's work in the area, he soon joined as a part of PureSpire's founding team.   
The company has now returned to Dal innovations as part of the Lab2Market Launch program, a 12-week summer accelerator for researchers and students committed to growing their ventures. The milestone-based boot camp offers up to $15,000 of funding, mentorship, networking opportunities, and office space.
"The guidance from the Lab2Market instructors gives us the confidence and direction to take our startup to the next level," says Dr. Sweeney.
Driven by a desire to make a critical difference to the health and safety of firefighters, Dr. Sweeney and her team are focused on getting their products to market and into hands as soon as possible.
"Our patch could provide the evidence firefighters need who are left with the burden of proof to show the link between workplace exposure and a cancer diagnosis," explains Dr. Sweeney.
She adds, "we need to remember that cancer is largely a preventable disease, and our patch could prove to be an essential tool for firefighters to reduce their internal exposures to the substances that cause them."