Two Dal faculty members have been named the inaugural recipients of a new award created in honour of the late Dr. Anne Marie Ryan.
Drs. Megan Bailey and Tom Ue are recipients of the Dr. Anne Marie Ryan Community Growth Award, launched by Dalhousie this year to recognize individuals and groups at the university dedicated to building a better community through education, learning and outreach.
Dr. Ryan, who passed away unexpectedly early last year, was a University Teaching Fellow in the Earth and Environmental Sciences department whose community-minded approach to teaching, learning and leadership left a lasting impact on many at Dal. She was known to focus her teaching on the "whole person" and pushed back against traditional views of leadership in favour of sharing power and building community through servant leadership.
"With her students and colleagues alike, Anne Marie helped to guide, support, and encourage everyone to become the best version of themselves. She believed that all teachers can be amazing leaders, each in their own context," stated an In Memoriam published following her death.
And the students who took her courses in the geological sciences learned about far more than rocks: they were pushed to think outside the box, taught to ask good questions, and given creative assignments that allowed for and encouraged risk taking.
When Dr. Ryan was awarded a prestigious 3M National Teaching Fellowship in 2019, her response to a question about what makes for a great classroom experience spoke volumes about her perspective: "It's creating community, creating a sense of belonging — that we're in this together, collaboratively," said Dr. Ryan at the time. "I'm learning as much from the students as they learn from me."
The Dr. Anne Marie Ryan Community Growth Award, to be awarded annually, is open to all current students, faculty or staff who are engaged in an educationally focused project within or connected to the Dalhousie community.
Learn more about this year's recipients, Drs. Bailey and Ue, in the Q&As below:
Dr. Megan Bailey,
Marine Affairs

How do you help build a sense of community within your research team?
I'm a pretty social person and love entertaining and sharing food and stories with people. We do that a lot as a team. We try to spend time together that is just people being people, not formal or structured. I often let my students know about the awards I didn't get, the papers that got rejected, the issues I run into in doing my work, so this also helps to build community. We all fail, and we all learn, and we need to help each other along the way.
I don't know if you are familiar with the work of Brené Brown, but she writes a lot on vulnerability as a form of connection, and I think that's really important. It's hard to connect and community build with people that seem infallible. I let all my fallibleness hang loose!
What's an example of a research project or two you've led that really illustrates the value of strong relationships with stakeholders and community?
My work with Dr. Jamie Snook and the Torngat Secretariat, Nunatsiavut Government, and the Torngat Fish Producers Co-op is one of my most cherished collaborative projects. I would not say I have led this project, but rather was invited in to support a process that is led by the Torngat Joint Fisheries Board, which is a co-management board formed under the Labrador Inuit Land Claims Agreement. The project seeks to support an Inuit-envisioned future of commercial fisheries: fisheries that support sovereignty and community in Nunatsiavut, the self-governed territory of Labrador Inuit. This partnership supported a doctoral student, Rachael Cadman, who was co-supervised by Jamie and myself, and who defended her thesis on June 29th. This work required different models of data sovereignty and knowledge mobilization, and the patience and support that Dr. Snook and the other partners have shown Rachael and myself in supporting the adaptation of regular institutional processes that just weren't the right fit for the partnership has been so generous.
You're known as someone who prioritizes the moral and ethical dimensions of your research group's work. Why is that so important to you?
I'm not sure if this is why — but I never really set out to be an academic. I guess I am curious about the world around me, but I never set out to learn more about that world, rather, I set out to do something about it. And so for me personally, I see my students and mentees as my research legacy - not the research itself. Training mentees to do work that matters is an important aspect of the change I'd like to see. I want nothing more than someone to hire a mentee of mine or work with them in another context and tell me how much integrity, generosity, and thoughtfulness that person brings to their work and relationships. I guess I feel like the 'easy' way to train folks in that spirit is to make moral and ethical dimensions explicit in our work.
What opportunities and activities do you prioritize or seek to provide to help young researchers developing their careers?
Community means many things: it can be small or large, inward facing or outward facing, and so on. It's important for emerging researchers to have agency over their own community. They are pseudo-forced to be a part of mine if they are my mentee, but apart from that, who are their people? For some students it may be about connecting with profs at Dal, with students in another department, with researchers in a completely different network, but I try to facilitate as many connections as I can so that the opportunities presented to emerging researchers are endless, and they need to develop their own values-forward approach to be able to select the best opportunities to take advantage of for their own goals. Something Sara Iverson (Biology) shared with me is the importance of giving mentees leadership opportunities and supporting them to take on initiatives or endeavours where they can be challenged and succeed, thus building confidence, capacity, and leadership qualities. Those leadership opportunities (could be leading a paper, a grant application, an ethics application, a special session at a conference) also lead to community building, and so reinforce relationships inside and outside our research group.
Who was a key role model for you in grad school when you were developing your career and finding your way?
I worked under the supervision of Dr. Rashid Sumaila (UBC) for both my masters and doctoral degrees. In six years of working together, I remember only one encounter where I left Rashid's office feeling worse than when I went in (and it was my fault). That is a model I want to replicate; to always lift mentees up. Rashid always said he saw his duty in supervising students was to graduate students that were better than him. Rashid's optimism and counter-culture attitude, as well as his focus on fisheries equity before it was trendy, set me up for success and propelled me into seeing mentorship as its own valid contribution in doing good work.
Tom Ue
Department of English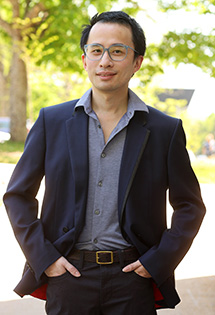 When did you first join Dal?
I joined Dal in 2018, following a Banting Postdoctoral Fellowship at the University of Toronto. I count myself lucky to work in such a supportive department and with such brilliant colleagues and students.
What is an educational initiative or project you've led or been involved with at Dal that you are particularly proud of and why?
My principal teaching responsibility in 2021-23 was "Reading Literature and Science," a first-year course that I developed and that enhanced international students' experience.
This course's academic aims are to introduce students to recent debates about the humanities and the sciences; to promote cross-disciplinary scholarship; and to provide instruction in effective writing. My broader aim is that students, especially first-generation university learners, leave this course better equipped in the post-secondary environment.
Has your approach to teaching changed at all since you first began? How do you help build a sense of community with and between your students?
My teaching has changed dramatically in response to students' needs. I have created orientation activities to introduce students to each other, to the class, to Dalhousie, and to the wider Halifax community. In one version of "Reading Literature and Science," I tasked students to complete a Scavenger Hunt. Students can work individually, in pairs, or in groups; and they complete and reflect on a variety of activities, ranging from meeting an international student to registering their library cards, and from taking a selfie at The Wave to completing e-courses offered by the Faculty of Open Learning & Career Development.
For multiple classes, I have organized well-attended Book Clubs that run on alternate Fridays throughout the term. There, I show students how to perform close readings of short stories, poems, and films; I work with guest speakers from different units including the Writing Centre, the Department of English Language Studies, Dalhousie University Libraries, the Bissett Student Success Centre, and the Faculty of Graduate Studies to familiarize students with our resources; and I introduce them to professional development opportunities. I'm pleased that students have responded so enthusiastically to these activities.
You're known as a teacher who prioritizes experiential learning as a way to engage students. What does experiential learning mean to you, and can you describe an example of a time when it's really worked well?
Experiential learning involves introducing students to our discipline and equipping them with the tools both to excel in and to transform it. As I routinely tell my students, the next great book and the next great essay are the ones that they will be writing. I have successfully mentored students to revise their essays for presentation at academic conferences and for publication in journals such as Essays in Criticism (2020) and in periodicals including Film Matters (2022, 2019, and 2018).
Who was a key role model for you when you were a student and how has their influence shaped your approach to teaching?
A key moment for me is a conference plenary that I attended at the University of Oxford many years ago: the eminent scholar Hermione Lee was in conversation with the novelist Philip Pullman. It was a transformative experience: Lee's warmth, her intellectual rigor, and her exacting questions made me consider how we can productively incorporate the tools of creative writing into our own critical and pedagogical projects. Holding a conversation—with people who are often so very different from us—is central to our discipline, and it's something that I cherish and that I have always sought to foreground in my classroom.
Students have lives outside the classroom, obviously. How important is it to you to get to know your students beyond just their submitted coursework?
Reciprocity is so important to teaching and learning. I learn so much from my students, and they have introduced me to a broad range of works that matter to them. Increasingly, I invite students to bring aspects of themselves into their critical projects. In one version of "Reading Literature and Science," students had the option to recommend a book or a film to the Monster in Shelley's Frankenstein (1818) and to justify their reasoning. While creative, this project encourages students to ruminate about reading practices, both the Monster's and ours, and it enables me to get to know them. I'm so excited to meet and to work with this bright, new generation of thinkers and writers!