Humans are exacting a heavy toll on the world's vertebrates, exploiting more than one-third of them and threatening the existence of more than 5,000 species, according to a global study looking at how human predation impacts biodiversity through consumption, trophy hunting and other activities.
The findings, published Thursday (June 29) in Communications Biology, suggest that people have a much broader impact on biodiversity, taking up to 300 times more prey species and causing outsized impacts on natural ecosystems. As a result, the ecological roles these overexploited species perform in ecosystems are under threat from human use.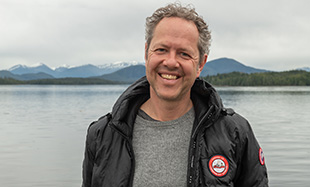 Dr. Boris Worm, a marine ecologist and Killam Research Professor at Dalhousie, co-authored the study which is the largest of its kind, comparing humans to other predatory species, like lions, tigers and sharks. One of the most significant findings was just how many different species are exploited by humans. 
"We're an extraordinary predator in that our prey spectrum — the total number of species that we're after — is in the order of 15,000 just for the vertebrates and we're using many of those in an unsustainable way so much so that it threatens their survival," said Dr. Worm, explaining that the team looked at humanity's overall ecological footprint, or niche.
"A niche is a species' ecological operating space — where it lives, what it feeds on, essentially the conditions it needs to survive. The point here is that humans use many, many more species than any other vertebrate — we have a super-sized niche and are the most influential predator in many ecosystems."
Earth's most extraordinary predator

The international team of scientists from 14 institutions analyzed human 'use' data for 45,000 vertebrate species, including most known fish, mammals, birds, reptiles and amphibians. Whereas other top predators kill almost exclusively for food, 'human predators' have much more varied uses for their prey species.
For land vertebrates, for example, the researchers were surprised to find that capturing terrestrial animals for the pet trade outnumbered food uses almost two to one.
"Comparing humans to other vertebrate carnivores, we have emerged as the planet's most extraordinary predator, doing things that other predators do not. This includes commonly killing or capturing for reasons other than feeding themselves, as well as endangering thousands of prey species simultaneously," says co-author Chris Darimont of the University of Victoria and Raincoast Conservation.
Sport hunting and other forms of collection underlies use of eight per cent of exploited terrestrial species. Fish and mammals are mostly used for food, whereas birds, reptiles and amphibians are primarily targeted as pets.
Dr. Worm witnessed a surprising example of that when he was in Indonesia several years ago. He was speaking with someone who traded in wild owls and was told the demand had suddenly skyrocketed. The reason? The Harry Potter movies and novels were out and featured the nocturnal birds prominently.
"It drove a wave of exploitation of wild owls to service that spike in demand," he says, adding that the film Finding Nemo had a similar effect on the sales of pet reef fish, even though the message of the film was to leave wild fish undisturbed in their habitat.
"They were good examples of where a cultural phenomenon drives the over-exploitation of a wild species. Through our fascination with these species, we sometimes love them to death."
Recommended reading: Dal study shines spotlight on threats from lost fishing gear
Understanding overexploitation

The research also gives new insight into the risks of overexploitation, both from killing them for food and live-capturing them for the pet trade and other uses. Overexploited species tend to have different attributes — like large body size and a plant-based diet — compared with those not exploited or exploited sustainably. Indeed, the researchers found that humans are threatening a diverse and ecologically distinct set of species. Losing these species and the unique and potentially irreplaceable roles they play can bring profound changes to ecosystems.
How can humans continue to hunt and fish without endangering species and their roles in ecosystems? The research team recognizes that subsistence hunters and fishers can have more sustainable, long-term relationships with the animals they use, which can help us reimagine our relationship with animals. But more indiscriminate forms of use, such as some highly industrialized fisheries and unregulated capture of pets from the wild, are still dominant and require attention from policymakers to limit their negative impacts.
"The unnatural selection of animals by human predators could lead to a range of repercussions across ecosystems. From the potential loss of large seed-dispersers, such as the Helmeted Hornbill to megaherbivores such as the Black Rhino, to migratory predators such as large sharks," says co-author Rob Cooke of the UK Centre of Ecology and Hydrology.
How to manage or constrain such impacts has been the topic of recent negotiations under the Convention on Biological Diversity, which aims to halt and reverse species loss globally. The present research identifies species that are not only overexploited but also have outsized ecological influence globally. These species can be prioritized in conservation action plans that consider not only specific species, but also the broader ecosystem-level implications of species loss.
"What this paper has done for me is really made me think of our relationship to wildlife and nature. The good news is that humanity now recognizes our destructive tendencies and there is a real attempt to use the best available science to get things right, here in Canada and around the world," concludes Dr. Worm. "This makes me hopeful for the future of life on Earth."
Recommended reading: Killer whale observed caring for pilot whale in remarkable first