When it comes to caring for natural resources like water, Indigenous Elders share that they're taught to think of rivers as great grandmothers. It's an approach that's at the foundation of the Atlantic First Nation Water Authority (AFNWA), the first-of-its-kind Indigenous water utility formed to serve First Nations communities across the Wabanaki territory (Atlantic Region), and one that's now being taught to local students to ensure the AFNWA's success.
Their mission? Safe drinking water and clean wastewater for participating First Nations communities.
To this end, the AFNWA is building a trusted talent pool that respects Indigenous knowledge, culture, and values. To train students to help meet this goal, Dalhousie University's Centre for Water Resources Studies (CWRS) has partnered with the AFNWA and Mitacs, a national innovation organization that helps solve business challenges with research solutions from academic institutions.
According to the AFNWA, support from Mitacs was vital in assisting the AFNWA to best serve its communities. Mitacs internships allowed students to be trained in both engineering and Indigenous ways of knowing, with Mitacs interns completing water quality sampling in the first 11 communities on-boarded by AFNWA, which formally launched operations in April.
"This project showed me how incredibly valuable and important it is to work with more than just a Western science lens," said Toni Stanhope, a recent Dalhousie graduate with a Masters of Applied Science in Environmental Engineering and one of four student interns hired by the CWRS.
The CWRS, under the directorship of Dr. Graham Gagnon, has been a long-time supporter and technical consultant to the AFNWA, assisting in the creation of the first water quality compliance standards to be applied to a First Nations water system in this country.
All my relations

Not only did the students help establish key water quality benchmarks that proved valuable from day one, facilitating an urgent boil water advisory for one community as soon as the AFNWA took control of the water system, but every aspect of their work is grounded in "two-eyed seeing" — an Indigenous concept that combines Indigenous ways of knowing and Western science practice.
"An Elder with the AFNWA's Elder Advisory Lodge taught me he sees the river as a relation, and this guides his relationship with the water. This has helped me treat water more holistically and with more care," said Stanhope, who is continuing her work with the AFNWA and CWRS as a full-time research associate this summer.
The concept of caring for water as you would a family member comes from the Mi'kmaq term Msit No'kmaq, which loosely translates to 'all my relations.' For Stanhope, it means making sure she understands how First Nations communities are engaging with their water source and considering that relationship in any technical solution she proposes.
"When water comes in from the river for drinking water, for example, you understand it needs to be cared for in a respectful way to protect it for future generations to come" she explained. "Then, when it's returned as treated wastewater, you want to make sure you're not harming the receiving environment, which may mean monitoring for additional water quality parameters rather than just meeting the baseline requirements."
Students' work fills critical gap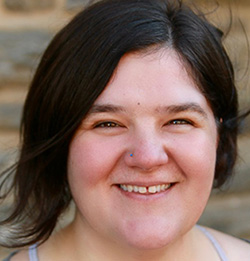 Under the supervision of Dr. Gagnon and CWRS research associate Megan Fuller (shown left), the student researchers — including three non-Indigenous students from Dalhousie and one Indigenous student from Cape Breton University — conducted water-quality assessments, analyzed samples in the lab, gathered data and then communicated their findings back to the AFNWA.
Their work helped to fill a critical gap by establishing benchmarks for water quality, a regulatory framework that did not exist previously because unlike other public utilities, First Nations water systems are unregulated.
"The students established the foundation we needed to hit the ground running with water quality monitoring programs in place on day one," said the AFNWA Interim CEO Carl Yates. "For the first time, we can actually see how we are doing in terms of quality benchmarking, and it's truly making a difference in the lives of the people we serve."
Thanks to calculations performed by the Mitacs interns, for example, the authority was able to identify one community where the chlorine concentration contact time, necessary to ensure proper disinfection, was not adequate. They swiftly issued a boil water advisory and are now in the process of designing a solution to solve the problem.
"In the past, that response would have been as slow as molasses and communities would have had to work through a prolonged federal process to get things done," Yates explained. "For the first time in Canada's history, we're providing a proactive approach to ensure safe drinking water for First Nations communities, including the development of safety plans that identify risks from the water shed all the way to the taps of users and back to the source again."
A huge benefit

Operating as a full-fledged utility since April, the authority has grown its staff from 28 to 48 staff in the last three months with operators coming on board on the same day as the communities transferred system responsibility. Existing Operators were hired with tenure when control of the water system was transferred to the AFNWA, and all operators are now undergoing training with the expectation of being certified within two years. An Elders Advisory Lodge is playing a key role in the AFNWA operations by advising on traditional knowledge and culture.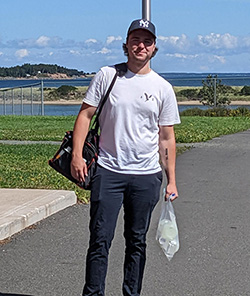 The authority's partnership with CWRS is ongoing as they begin to investigate alternatives to chlorine disinfection, such as cutting-edge LED-based UV light disinfecting methods. Fuller credits the Mitacs program for providing an agile and responsive talent pool that helps them to quickly secure the expert help they need to support the AFNWA.
Shown right: Mitacs student Ryan MacDonald holding water samples collected from Pictou Landing First Nation.
"As soon as we needed more help, we got it," said Fuller, calling the opportunity through Mitacs to train future engineers and scientists with a focus on Indigenous ways "a huge benefit."
"We've just recently begun thinking about ecosystem services as a Western culture, but Indigenous peoples have had this figured out far longer than we have," she added. "The creation of the AFNWA is absolutely unprecedented. Everyone is looking for a solution to First Nations water security and they are paving the way forward."
For Stanhope, who has decided to focus her environmental engineering career on water, the opportunity to learn from Elders and engage with Indigenous communities on a personal level is life changing.
"Having the opportunity for Indigenous and non-indigenous students to work for, and learn from, a First Nations organization is vitally important when training the next generation of water stewards," Fuller said. "I believe all researchers should learn how to create space and to really listen and understand traditional ways of knowing. Two-eyed seeing brings huge benefits and makes for better solutions to pressing problems."